view original
post
Advocates and enthusiasts in the crypto industry frequently highlight the potential for disruption across various sectors by eliminating intermediaries and associated fees and delays. Among the industries mentioned for potential transformation, real estate stands out as one of the oldest and most cumbersome due to the lengthy bureaucratic processes and paperwork that potential investors must endure.
Addressing these challenges is the goal of Metropoly, an NFT project seeking to revolutionize how real estate operates by leveraging digital technology. This article explores how Metropoly operates and how users can benefit from its platform, including opportunities for passive income.
The Real Estate Industry Needs a Change
In 2021, the global real estate market was valued at $6.8 trillion, exhibiting a compounded annual growth rate (CAGR) of 1.9%. This growth trend is projected to continue, making it a desirable industry to invest in. In the United States, the market size in 2021 was estimated at $3.69 trillion, and it is expected to grow at a CAGR of 5.2% from 2022 to 2030.
Despite its attractiveness, there are challenges that have emerged in the real estate industry over the past few decades. Specifically, entry barriers have increased both financially and bureaucratically, making it difficult for individual investors to gain access and benefit from the security and passive income opportunities offered by real estate ownership.
The United States' house-to-income ratio demands attention, as it currently exceeds the levels observed during the 2008 housing bubble, reaching 7.71. In contrast, before 2000, the ratio stood at about 4.4. It is critical that this trend is reversed to prevent large segments of the population from being priced out of the housing market.
All of this clearly suggests that the real estate market needs a chance. Blockchain technology has the power to do that and shatter the entry barriers to the real estate market. It is one of the most discussed use cases of crypto – and Metropoly is front and center when it comes to this revolution.
How Metropoly is Bringing Blockchain Tech to Real Estate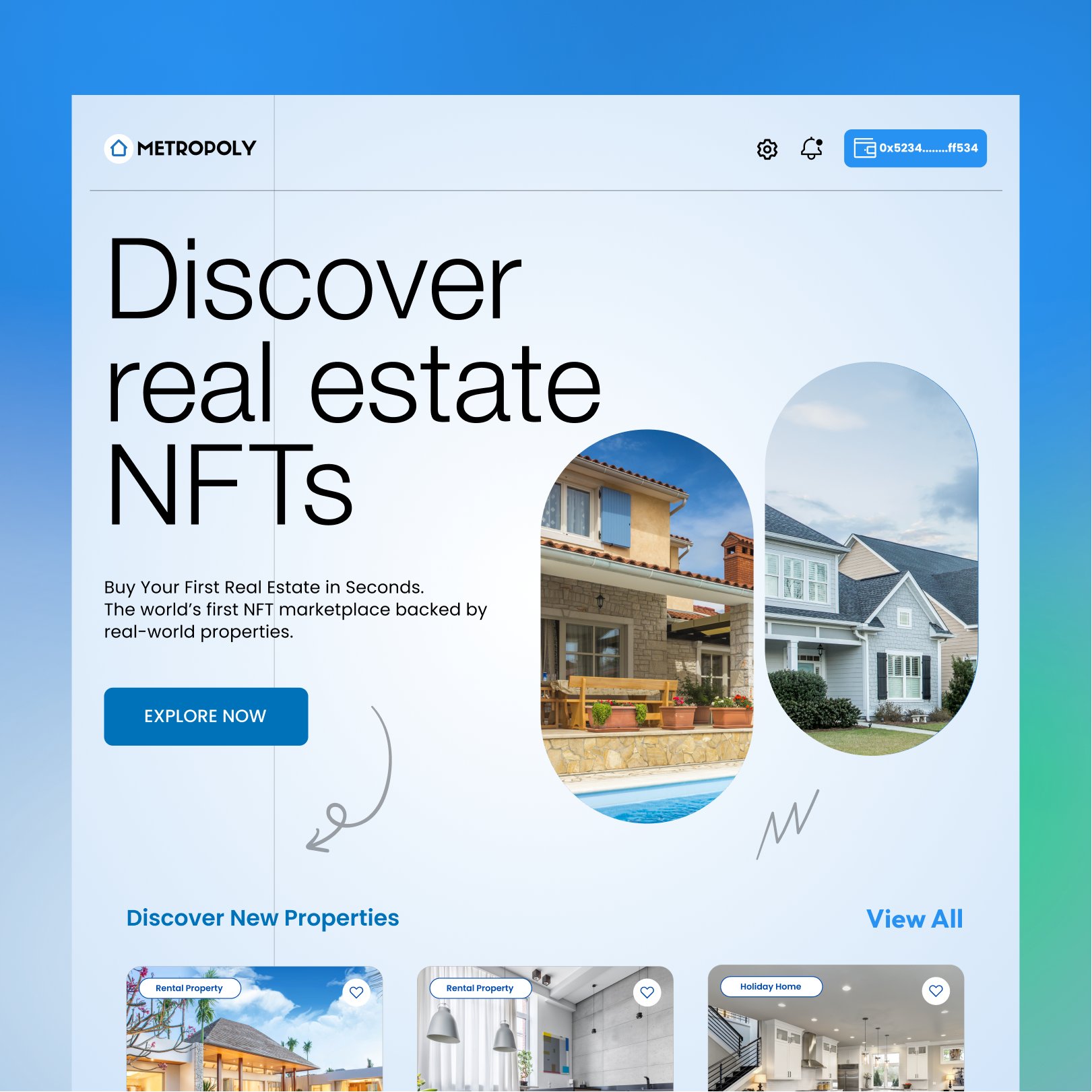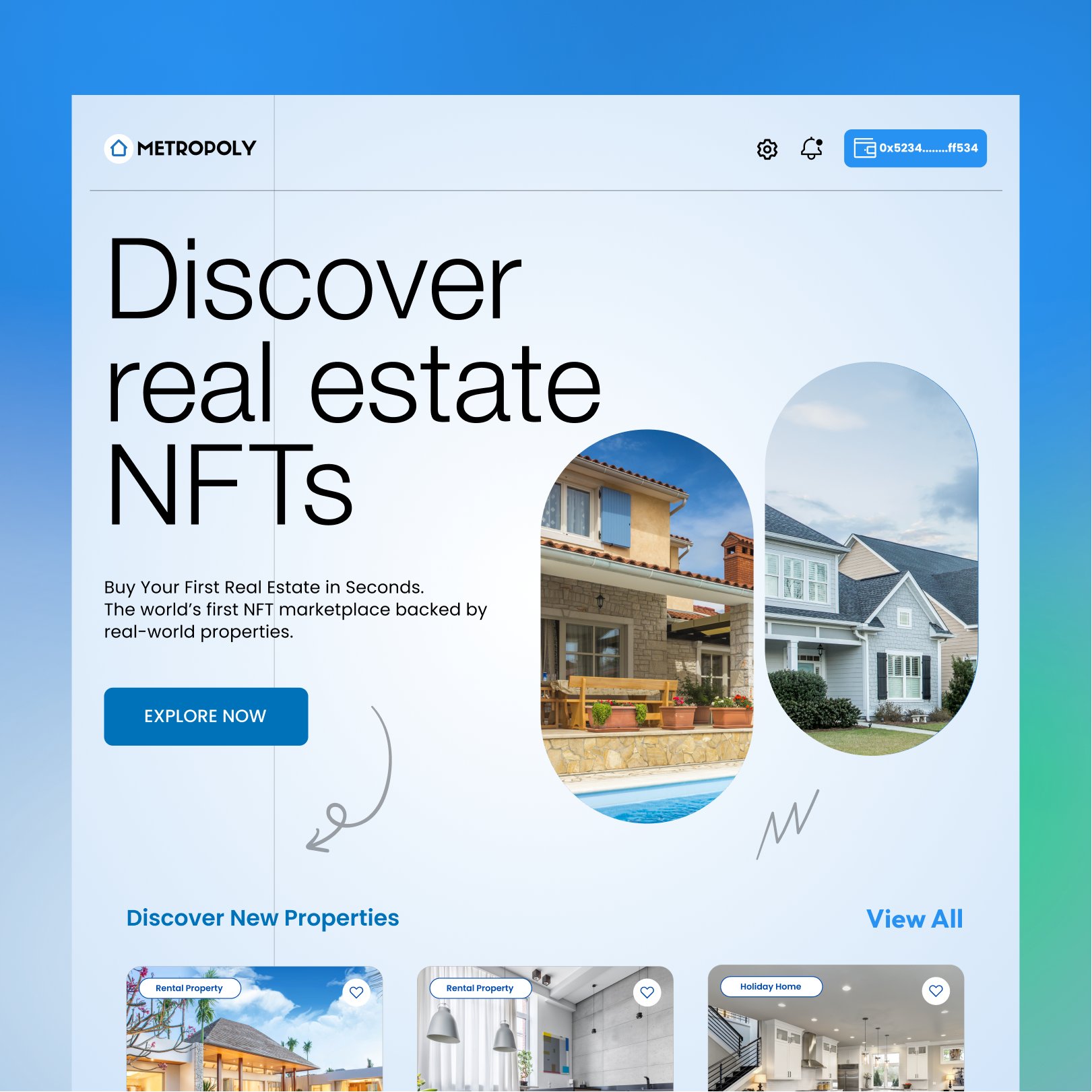 Metropoly is an innovative project that is set to deliver the transformation required by the real estate market. It is the first real-estate NFT marketplace backed entirely by properties, providing users with an opportunity to invest in real estate properties through NFTs. These NFTs are connected to real-world properties, allowing investment opportunities to be available irrespective of a user's location or credit score.
The key idea here is fractional real estate investment, which allows buyers to buy fractional values of a property. This allows them to purchase properties at a significantly lower price – as low as $100, in fact. Imagine being able to buy a fraction of a luxury property in a high-value location and earn rental income from it. Metropoly lets you do that.
The Metropoly platform offers a significant advantage over traditional real estate processes, which may take months to complete. With Metropoly, these procedures can be accomplished in a matter of seconds. This accessibility enables anyone, regardless of location, to participate in the real estate market and protect themselves against inflation.
In addition, the project has initiated a giveaway valued at $1 million, granting the recipient access to a luxury apartment in the iconic Burj Khalifa. The winner can earn a potential rental income of up to $100,000 annually from the property. There are ten entry methods for this contest, primarily involving the promotion of Metropoly, such as joining the Telegram channel, sharing the project on Twitter, and referring friends.
Metropoly has made the beta version of its platform available, which allows users to browse through the different properties on offer. The platform includes tabs for auctions, mortgages, and payouts. The availability of a functional product is a positive indication of the project's potential success, making it worthwhile for crypto enthusiasts to explore the presale. It is important to note that the properties displayed in the prototype are for demonstration purposes only.
The METRO Presale is Attracting Many Investors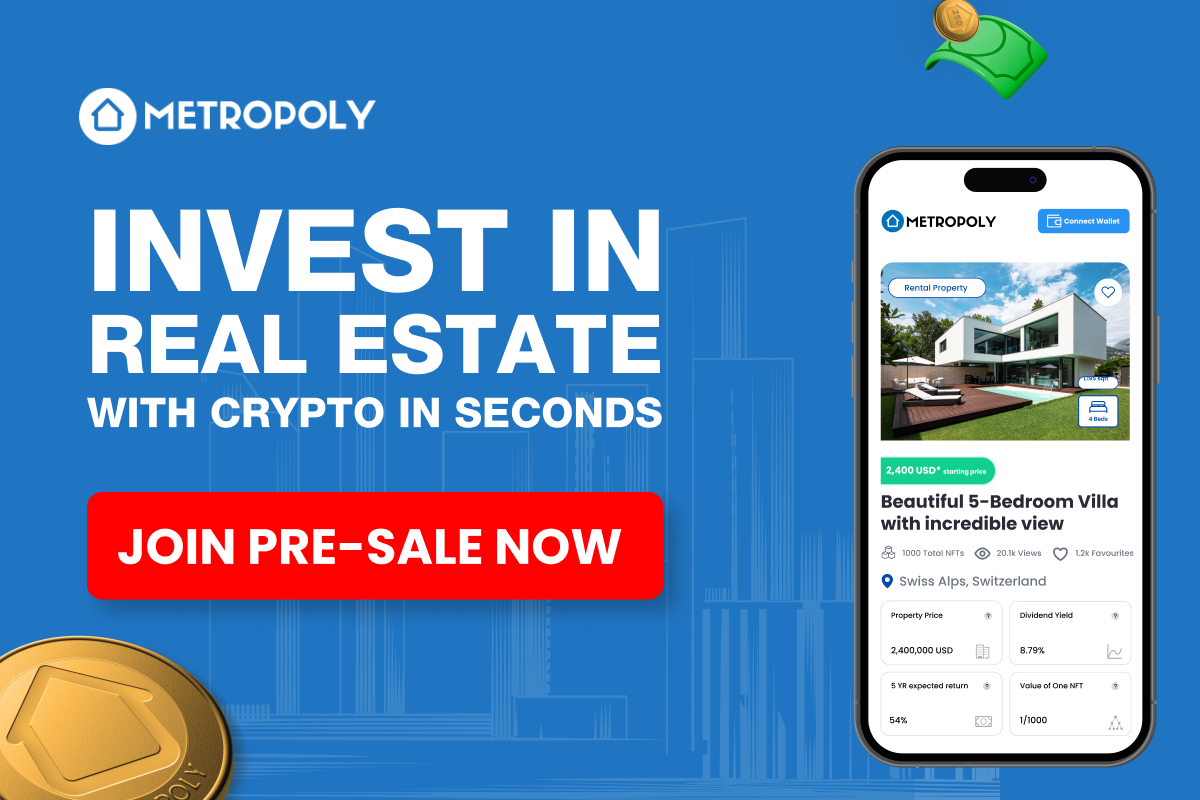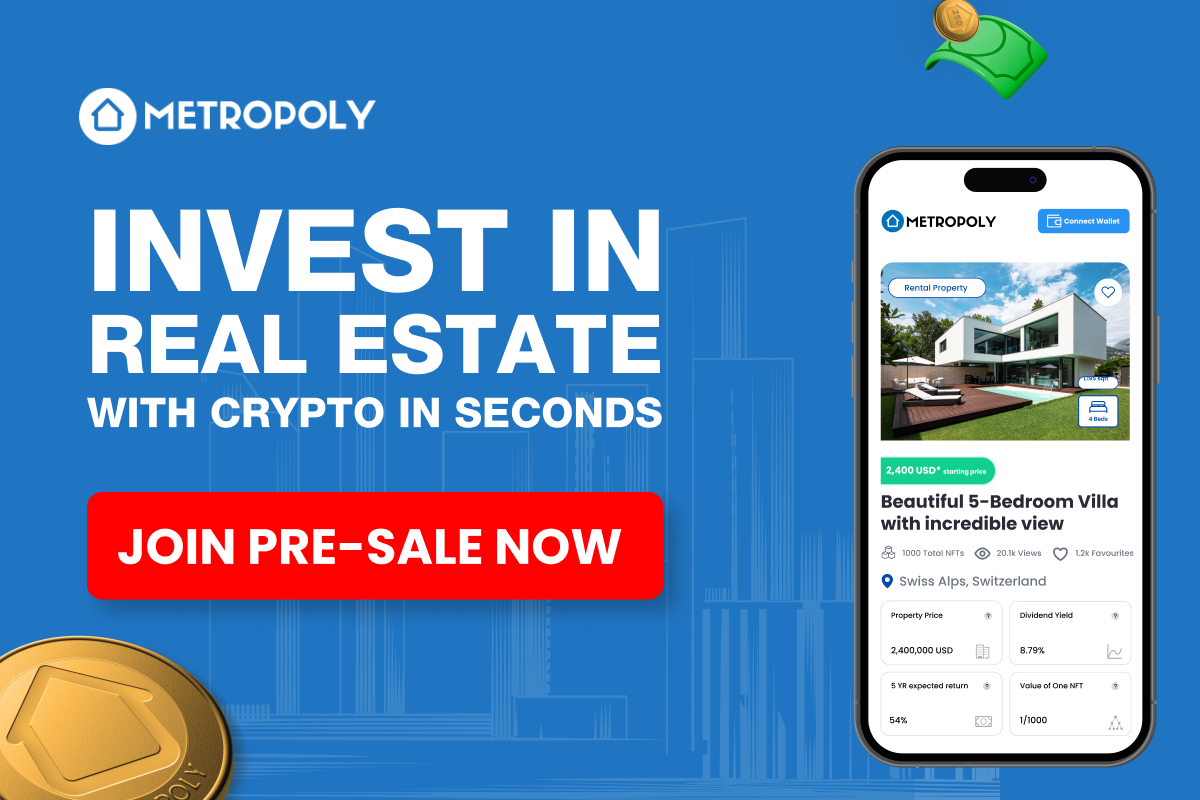 The entire Metropoly platform is powered by the METRO token, which is an ERC-20 token with a limited supply of 1 billion tokens. This utility token will be used for payments and rewards within the platform.
Currently, the Metropoly (METRO) presale is ongoing, and interested parties can purchase the token using USDT, ETH, or BNB. The cost of 1 METRO token is $0.0625, and the minimum investment is $100.
How to buy METRO: A quick guide

Step 1: Get a crypto wallet: Download MetaMask or Trust Wallet

Step 2: Investors need to own Ether, Tether or BNB, which will be exchanged for METRO tokens

Step 3: Link wallet on https://t.co/tpOwICvgol

Step 4: Buy METRO tokens! pic.twitter.com/aGmFZemKnf

— METROPOLY – PRE-SALE IS LIVE! 🔊 (@metropoly_io) February 12, 2023
Metropoly has already raised over $500,000 in its presale. There has been a lot of talk about the project within the crypto community and social media, and that's a sure-shot sign that it is making headway in this industry.
Investors who participate in the presale are enrolled in the Platinum Member's Club by default, which includes several advantages that increase with the amount invested. The first level includes perks such as early access to the Metropoly Beta and a Metropoly NFT, while the higher tiers offer real estate NFTs valued at $10,000 and cashback on rental income. Additionally, the earlier an investor participates in the presale, the higher the incentives they receive.
The platform's contract code has been verified by SolidProof and the team identities have been verified by CertiK.
Expect a Revolution in Real Estate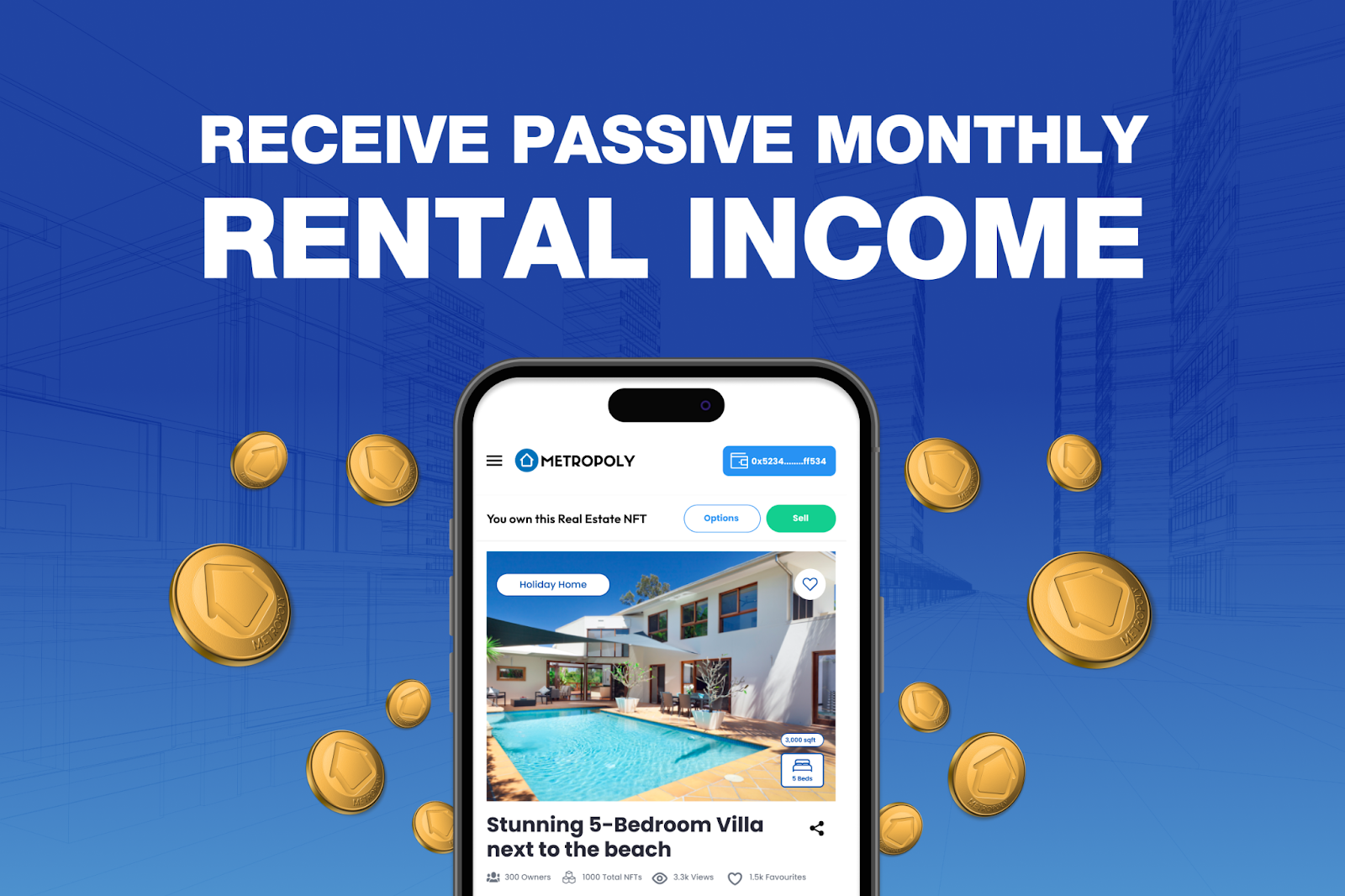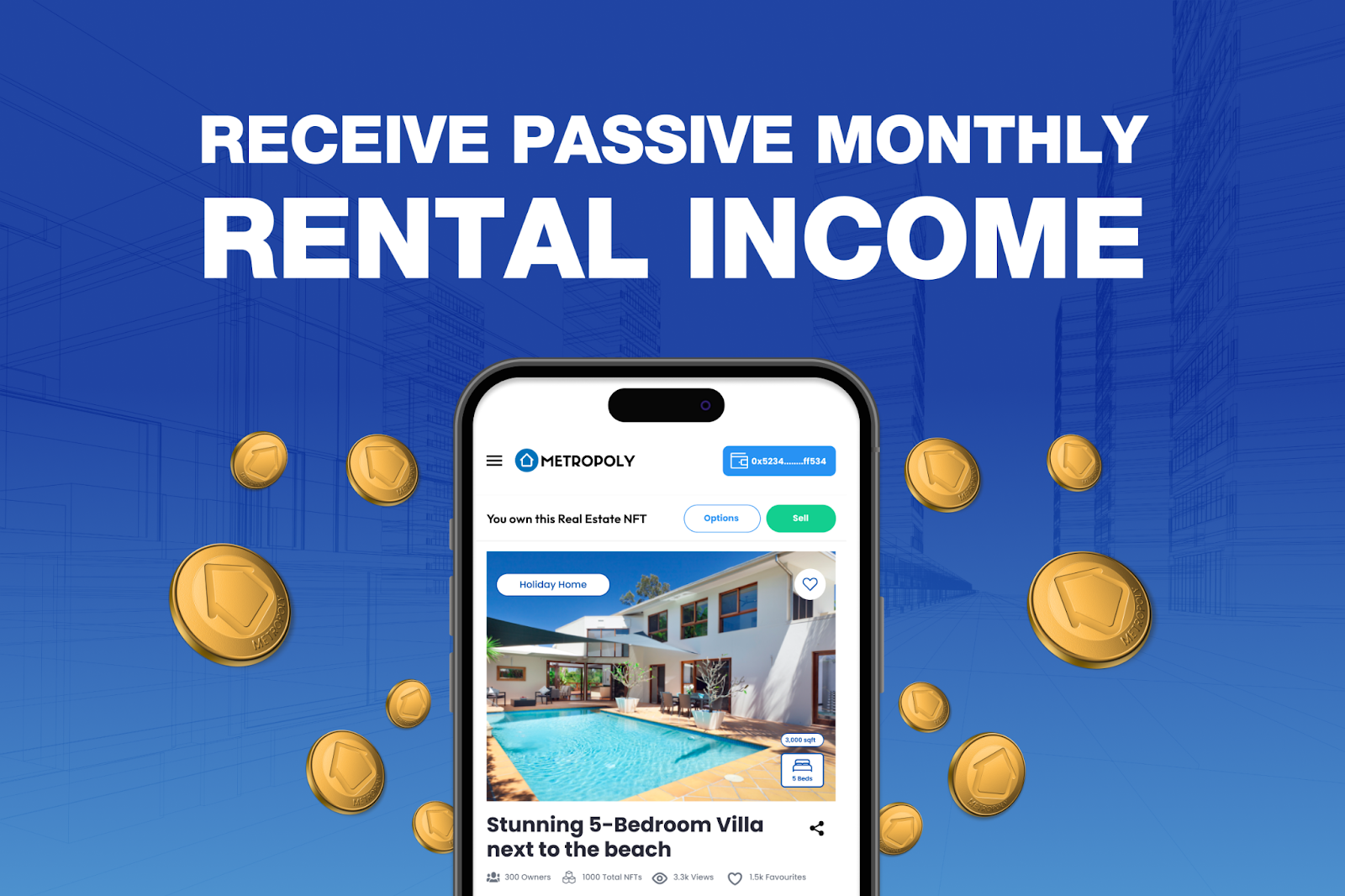 Real estate continues to offer a dependable means for individuals to secure their capital. Not only does it provide a place to live, but it also represents a tangible asset with intrinsic value. In today's turbulent economy, owning property can offer much-needed peace of mind, whether as a primary residence or a source of rental income.
The advent of NFTs in real estate is set to revolutionize how transactions are conducted, benefiting all parties involved. Metropoly provides an excellent example of this emerging model, offering individuals from diverse backgrounds an accessible entry point into real estate investment. With its promising approach, the platform is poised to become one of the most significant players in the crypto market.