The pitch clock arrived in Major League Baseball this past weekend and the results were immediately felt in Arizona and Florida.
The first 40 exhibitions played Friday through Monday afternoon featured an average game time of two hours, 37 minutes. That's 21 minutes faster than the first 40 contests played last spring.
How it plays in the regular season remains to be seen, but the early sample is in line with what occurred at the minor-league level in 2022.
Last year, pitch clocks shortened games in the minors by 25 minutes to 2:38. The MLB clock, 15 seconds with the bases empty and 20 seconds with runners on, runs just a bit longer than the clocks used in the minors (14 and 18 seconds).
Only six of the first 40 spring contests averaged more than three hours. The Astros and Nationals took 2:07 to complete a game Sunday.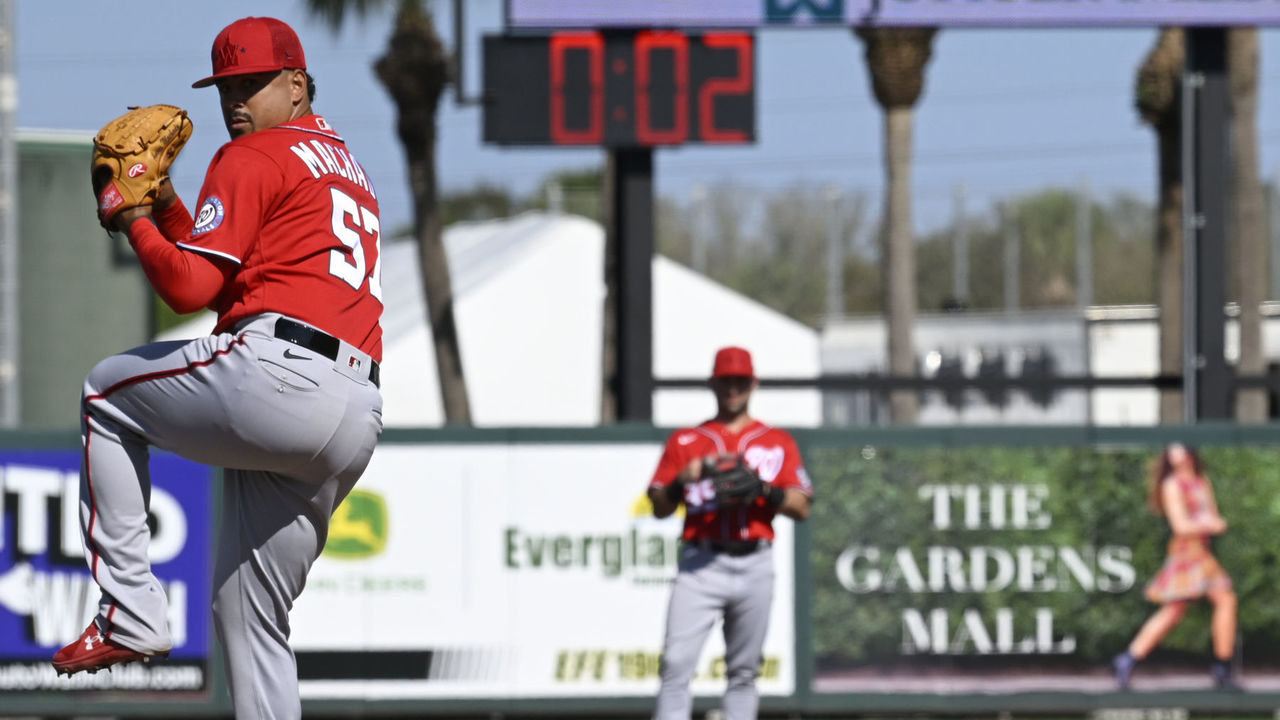 The three-year average in MLB for nine-inning games is 3:07. The record for average nine-inning game, 3:10, was set in 2021 but dropped by seven minutes last season when the addition of PitchCom.
If games shorten by 21 minutes in the regular season, then based on last year's pace, it would work out to an average time of 2:42. MLB games haven't been completed that quickly since 1985 (2:39).
But it's not just about the total time. More importantly, the overall rhythm of the games is improving.
The game's pace had been grinding to a halt in recent years with an average of 23 seconds between pitches – a record high since pace started being measured in the pitch-tracking era. The quicker pace this spring means four fewer seconds to be distracted by a smartphone or zone off into a daydream.
As with any new rule or technology, there have been hiccups.
The Padres' Manny Machado received the first strike call for not being ready in the batter's box with eight seconds to play. The Pirates' Roansy Contreras was among the first pitchers to receive a violation for not starting his delivery in time.
Guardians reliever James Karinchak received a violation when he asked for a new ball, flipped it in the air a few times, and was not ready to pitch. Cleveland manager Terry Francona told reporters postgame that the clock should have been reset when Karinchak received the new ball, but it was not.
The most alarming violation for critics was how the Braves-Red Sox game ended Saturday. Atlanta prospect Cal Conley was called for a third strike to end the contest with the bases loaded in a 6-6 tie.
At least it wasn't Game 7 of the World Series.
"This is going to be all over SportsCenter," Braves manager Brian Snitker told reporters afterward.
Yes, it was unfortunate. But it was also just Day 2 of the pitch-clock era. MLB will undoubtedly tweak some things as we go along. Perhaps some easing of the clock is needed in ninth-inning or high-leverage situations.
While mic'd-up during play Monday, Pirates veteran outfielder Andrew McCutchen said he'd like to see some changes.
"I wish once an inning, if a hitter went over time, you got a warning," McCutchen said. "The game is definitely moving fast. I just led off that last inning and I didn't have my breath. I was wondering if I should take a pitch."
Batters are allotted one timeout per plate appearance.
Like with anything new, the pitch clock was greeted with a variety of opinions.
Many liked the quickened pace and found it more enjoyable to watch. There was far less standing around, fewer hitters fiddling with batting gloves, and fewer pitchers pacing around the mound.
There were 18 relievers last year who averaged at least 27 seconds between pitches.
A Morning Consult poll last fall found avid baseball fans favored the clock by a 2-1 margin. In my own unscientific poll conducted Monday afternoon on Twitter, an overwhelming majority supported the clock.
The reaction was not universally positive.
Some fans said they didn't want to be rushed watching a baseball game. They want more baseball, not less. (Although, it's really the same amount of baseball action, just in less time.)
Some wondered what the loss of time will mean to concession sales and, ultimately, ticket prices. We'll have to see, but what if more people show up because baseball isn't wasting their time anymore?
Could baseball have tried something else? MLB and the players did attempt to enforce a batters-box rule in the early weeks of the 2015 season. Violations were tied to player fines, but it was quickly abandoned. The clock places less onus on the umpire to be an arbitrary judge and removes financial penalties.
Ultimately, the clock is not simply about catering to existing fans' preferences for style of play; it's about attracting new fans, especially the next generation. Some noted that more children will be able to watch games to their conclusion, especially postseason contests that can run past midnight ET.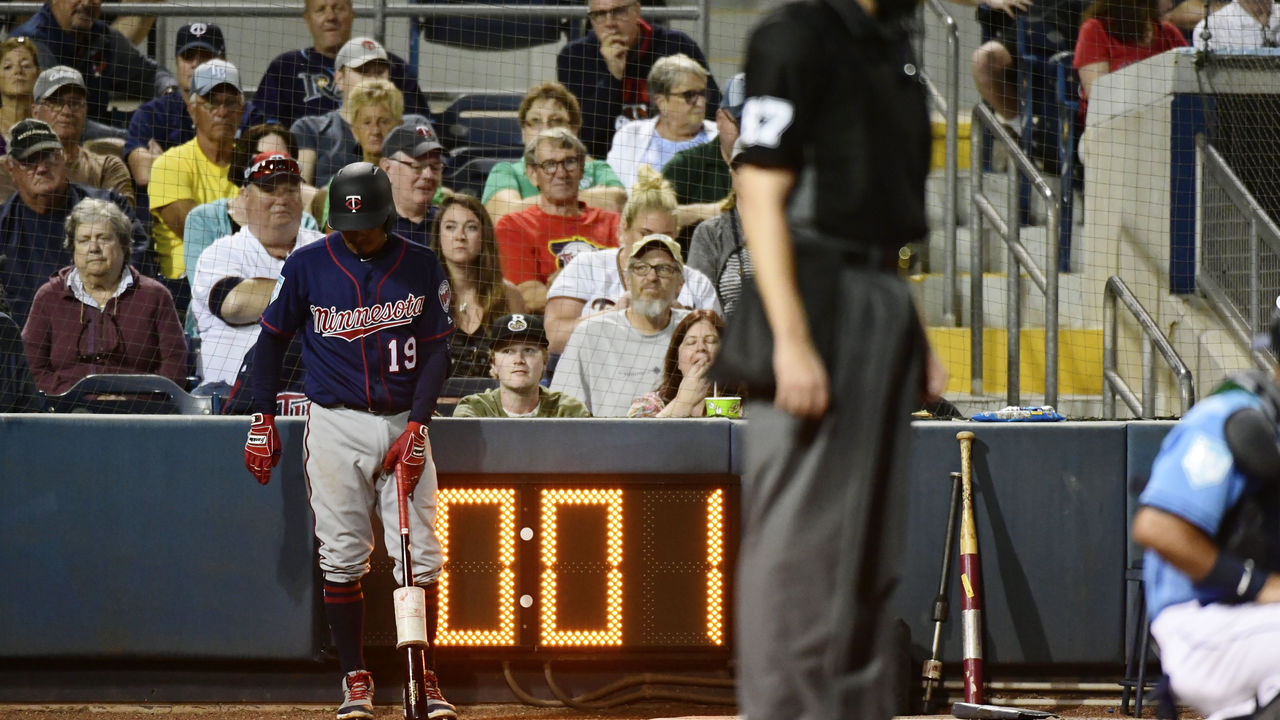 Attendance was down 19% last season from its 2007 peak. MLB revenues between its last two full seasons, 2019 and 2022, have barely grown – from $10.7 billion to about $10.9 billion, according to Maury Brown of Forbes.
While there are other factors at play in attendance decline, the fan base is also the oldest among North American pro sports, and TV ratings for its jewel events are also far smaller than they once were.
The lack of action in this era of record strikeouts certainly didn't seem to be attracting new fans. As society has moved faster and attention spans have grown shorter, MLB was moving slower.
The game's growth is what matters most to those in the commissioner's office. Yes, there will be snags along the way in Year 1 and adjustments will certainly be needed, but players and umpires should begin to adapt as spring training continues. There could be unintended consequences we cannot foresee. Hopefully, the clock doesn't cause a rash of pitching injuries.
But picking up the pace is arguably imperative to baseball's long-term health. So far, it's working – mostly – as intended.
Travis Sawchik is theScore's senior baseball writer.