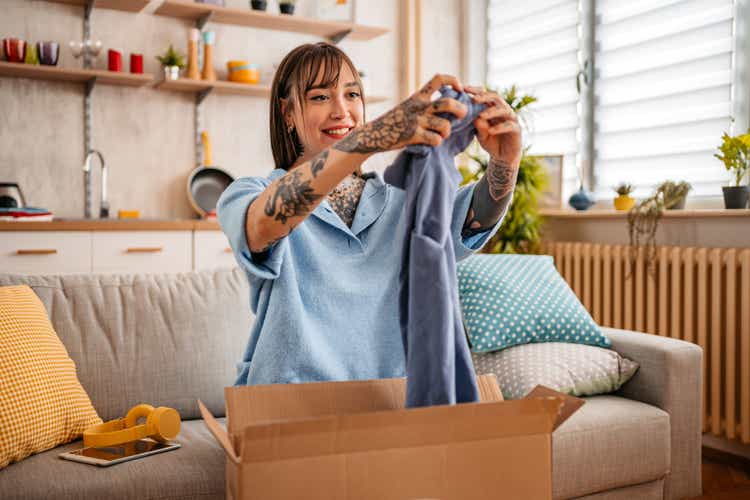 Thesis
Rent the Runway's (NASDAQ:RENT) increasing subscriber base, robust product breadth and first-mover advantage, with a unique business model that provides consumers access to an unlimited closet, could offer room to expand. The pent-up demand for events after resumption of normal life and more people returning to work are catalysts for the company's continued sales gains. A reduction in fixed costs through restructuring can help keep adjusted EBITDA positive. I believe boosting its active user base and engagement is key to persistent double-digit growth till 2025. I keep a Buy rating on Rent the Runway with an end of year price target of $5.6.
Why do I like RENT?
Sales Can More Than Double Through 2025
Rent the Runway revenue may surpass $500 million in 2025 vs. $203 million in 2021, as the consumer environment normalizes. Rent the Runway has a first-mover advantage in the apparel-sharing economy, given its ability to boost shoppers' purchasing power in a sustainable way by providing access to hundreds of brands through resale and rentals. This may be driven by adding active subscribers, which could reach over 250,000 in 2025 vs. about 134,000 in 3Q. Additional catalysts are potential expansion abroad, a rising mix of exclusive collaborations with brands, a loyalty-plan launch, and a new wholesale pilot program for Rent the Runway's exclusive designs.
Subscriber Base Drives Majority of The Revenue
Rent the Runway's ability to convert existing reserve and resale customers to subscribers, while attracting new consumers, is key to driving sales through 2025. Active subscribers propel the bulk of revenue, reaching 86.3% of total sales in 2021 vs. 84% in 2020. Its customizable subscription program, which debuted in 2020, can help increase revenue per subscriber and drive more profitable sales. Rent the Runway has seen its members boost spending as they become more comfortable with renting, moving up in membership plans, and adding items to monthly plans. In 3Q, 28% of subscribers added one or more paid items, in-line with previous strong rates. The company offers four, eight or 16 items a month, with plans ranging from $94-$235. Each additional piece is an extra $25-$29 in revenue.
Moreover, Rent the Runway's partnership with Amazon.com to sell a selection of exclusive design and secondhand apparel from an online storefront is a positive move that can raise inventory turnover, increase visibility and help attract and grow its own subscriber base. For Amazon, it further extends its reach in apparel and secondhand, broadening the assortment for its shoppers.
Circular Economy Attracts Younger Demographic
Rent the Runway's approach to wardrobing through rental and resale resonates more with younger shoppers — a group that will dominate spending in the U.S. — which may aid sales momentum for the foreseeable future. More consumers are shifting to rental or secondhand clothes when making buying decisions, especially younger ones, who tend to be more environmentally conscious and increasingly in search of variety, value and newness. About 73% of millennials are willing to pay more for sustainable goods, including apparel-rental plans. Of women in a Lab42 survey, 19% have rented clothing or accessories in the past, and 55% are open to the idea. In 2020, millennials overtook baby boomers to become the largest adult cohort in America, with over $600 billion in spending power, according to Accenture.
Re-Commerce Double-Digit Gains May Outpace Industry
Rent the Runway's rental and resale (re-commerce) model positions it well to take share from traditional retailers in the ∼$300 billion U.S. apparel market, as more consumers look for ways to participate in the circular economy. Rental and resale are among the fastest-growing sectors, with the rental market projected to increase at a 19% CAGR during 2022-2026, according to GlobalData. RENT's breadth of offerings gives it an advantage over specialty-apparel and single-brand-owned rental models. While resale only represented 11.7% of sales in 2021, it gives RENT the opportunity to tap into a potential $82 billion apparel-resale market, by 2026. That compares with a low-single-digit gain in the broader apparel industry.
Significant Moat with Partners & Logistics Investments
One of the most compelling reasons to like RENT in my view, is the company's infrastructure. It has spent over a decade and hundreds of millions of dollars developing proprietary systems and infrastructure to offer its service at scale. I believe with a high degree of confidence that the probability of someone attempting to replicate what RENT has built in the US is fairly unlikely. It's simply too costly and too different from any traditional e-commerce warehouse set up, that it's unlikely a venture investor would fund a competitor company as a laggard to RENT, nor do I see any large scale e-commerce companies (like Amazon) attempting this business model. Thus, RENT is in a class of its own, and has an open runway to build a large business without the threat of many competitors entering. This is a very rare situation among consumer internet investments.
Further, RENT differentiates itself by partnering directly with designers, ensuring strong working relationships, which has resulted in ~100% brand retention with over 750 designers. Designers are aligned with RENT's business model, unlike most other secondhand apparel marketplaces where their products are resold without any input around brand, authenticity, presentation or pricing.
In terms of PP&E investments, RENT's business model requires the need for warehouses and a reverse logistics system, in which every item that is sent out is returned and re-processed. This circular model is laborious, difficult, and unique, which I believe insulates RENT from any imminent competition. Below I will detail a garments path from rental to rental and the steps taken in the warehouse between each turn to ensure readiness.
Restructuring Plan Drives Operational Efficiencies
Rent the Runway's plans to reduce $25-$27 million in annual operating costs could take its adjusted EBITDA margin to 15% in the near term, especially as it already posted its first positive EBITDA margin in Q2, well ahead of its goal to get a positive EBITDA margin by early 2023 and before any restructuring-cost benefits. I don't expect the cost cuts to interfere with growth, given they're targeting back-office functions such as labor and are expected to have no impact on customer experience. Management anticipates holding marketing expense constant at about 10% of revenue. Investments in technology, fulfillment capabilities and product-acquisition channel shifts could also fuel margin gains. RENT's longer-term adjusted margin EBITDA goal of 30% implies a 15% EBITDA margin when excluding rental-product depreciation.
Valuation
I value Rent the Runway using a forward EV/Sales ratio of 1.2x on my FY23 revenue estimate of $290 million to come up with an end-of-year price target of $5.6. I believe at the current price, the company's shares offer a binary risk/reward outcome: 2x-4x from here, or the business is going to flail around as an overvalued expensive-to-run niche-business that never scales, and hence the equity is flat-to-down.
Risks to Rating
Rent the Runway is an apparel internet service catering to upper-income women. However, the company's total addressable market (TAM) is in question as many e-commerce companies catering to similar demographics have struggled to expand beyond a low-single-digit million customer base. Additionally, RENT's business model burns cash, and the company is not expected to achieve positive free cash flow through 2024. This is due to RENT's high fixed costs and low margins, which require significant capital expenditures to grow revenue. Furthermore, the pandemic had a significant impact on RENT's subscriber base, which was halved. It remains unclear if some of the company's core use cases, such as work-from-home, have been permanently impaired.
Final Thoughts
There are several reasons for my liking Rent the Runway. Firstly, despite concerns about its TAM, RENT has only scratched the surface of its potential subscriber base. According to estimates, the company generates around $200 million in revenue per 100,000 subscribers, indicating significant room for growth. Secondly, RENT has invested heavily in developing proprietary systems and infrastructure, which gives the company a competitive edge and sets it apart from its peers. Thirdly, RENT is expanding into new categories and use cases, such as home decor and pet apparel, which could significantly expand its revenue streams. Fourthly, new inventory models are improving RENT's unit economics, which could lead to improved margins and profitability in the long run. Therefore, I remain bullish on the stock while keeping an end of year price target of $5.6.