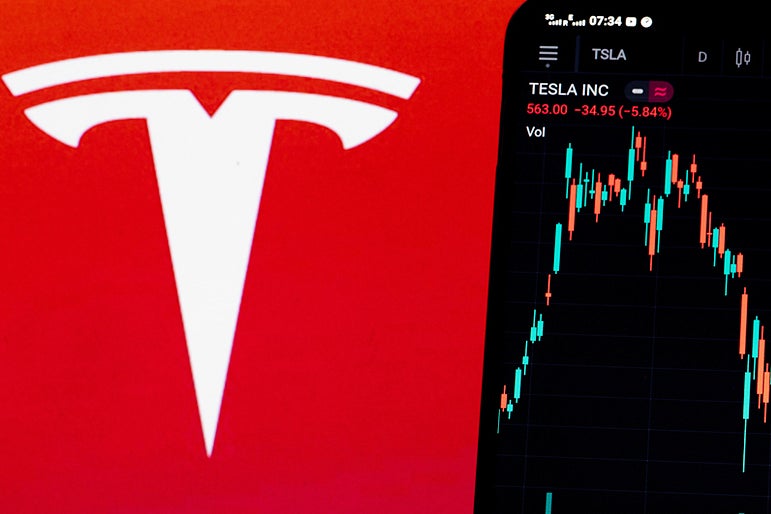 Shares of electric vehicle giant Tesla Inc. TSLA could tack on more gains Tuesday on top of Monday's 5.5% rally. In premarket trading, the stock added 1.78% to $211.33, according to Benzinga Pro data.
What Happened: After bottoming at $104.64 at the start of the year amid fourth-quarter deliveries miss, Tesla's shares were bouncing along nicely and peaked at $217.65 on Feb. 16, a peak-trough change of a positive 108%. The rally's momentum faded subsequently amid the return of risk aversion in the market.
See Also: Best Electric Vehicle Stocks
The stock has weathered the weakness fairly well and has held above the $190-level.
The strength seen since the start of the week is reflecting optimism ahead of Tesla's first-ever Investor Day, scheduled to be held at the Giga Texas on Wednesday at 4 p.m. EST.
Tesla investors and analysts alike hope for Elon Musk and team to share more details on the company's product roadmap, including the Cybertruck launch date, robotaxis and potentially the third-generation platform, widely dubbed as the Model 2 platform.
Musk confirmed in early February that he would share Master Plan, Part 3, which would be "the path to a fully sustainable energy future for Earth."
Key Levels To Watch For: Tesla is now enveloped between its 200-day simple moving average of $171.81 and the 50-day moving average of $235.49. A climb higher would take the stock to a resistance of around $221, while on the downside, it has support around the $191-$193 area.
Read Next: Tesla Takes The Crown, Ends Ford's 12-Year Reign In Brand Loyalty For Vehicle Make