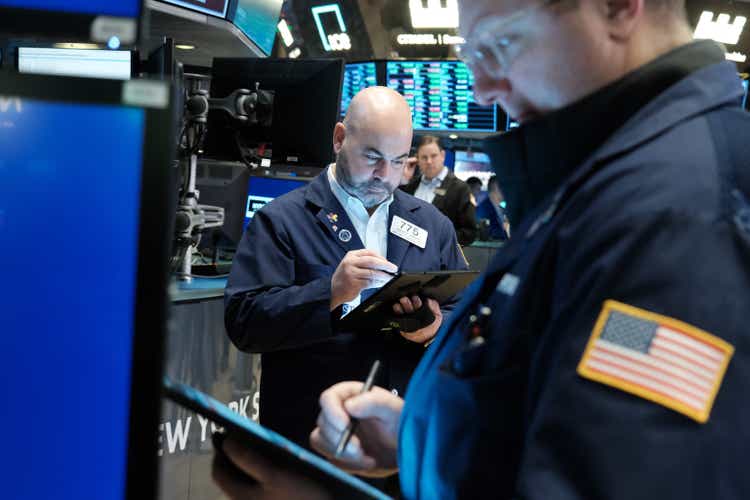 Stocks fell Wednesday after Treasury yields jumped on Fed comments.
The S&P (SP500) -0.6%, Nasdaq (COMP.IND) -0.7% and Dow (DJI) -0.3% were slightly lower.
The S&P was getting some support from its 200-day moving average around 3,940.
The 10-year Treasury yield (US10Y) rose 8 basis points 3.99% and the 2-year yield (US2Y) rose 9 basis points to 4.89%.
Atlanta Fed President Raphael Bostic said short-term rates need to be at 5-5.25% and held there until "well into 2024." The Fed's Neel Kashkari said in remarks that inflation is "very high" and the FOMC's job is to bring it down to the 2% target.
The February ISM manufacturing index rose to 47.7, a bit below the forecast for 48. New orders showed a solid gain, pointing to future strength.
The S&P manufacturing PMI rose to 47.3 for February, less than the consensus for a rise to 47.8.
"After a very strong start to the year for financial markets, February saw that go into reverse, with losses across equities, credit, sovereign bonds and commodities," Deutsche Bank's Jim Reid wrote. "That came amidst growing concern about the persistence of inflation, which in turn led investors to ramp up their expectations for central bank rate hikes."
"With all said and done, this meant it was an awful month for bonds, with Bloomberg's global aggregate bond index experiencing its worst February performance since its inception in 1990," Reid said. "However, it marked a recovery for the US Dollar (DXY), whilst European equities proved resilient amidst the broader losses elsewhere. Furthermore, the YTD performance of financial assets is still generally positive, with most of those we track still higher over 2023 so far."
See the stocks making the biggest moves this morning.