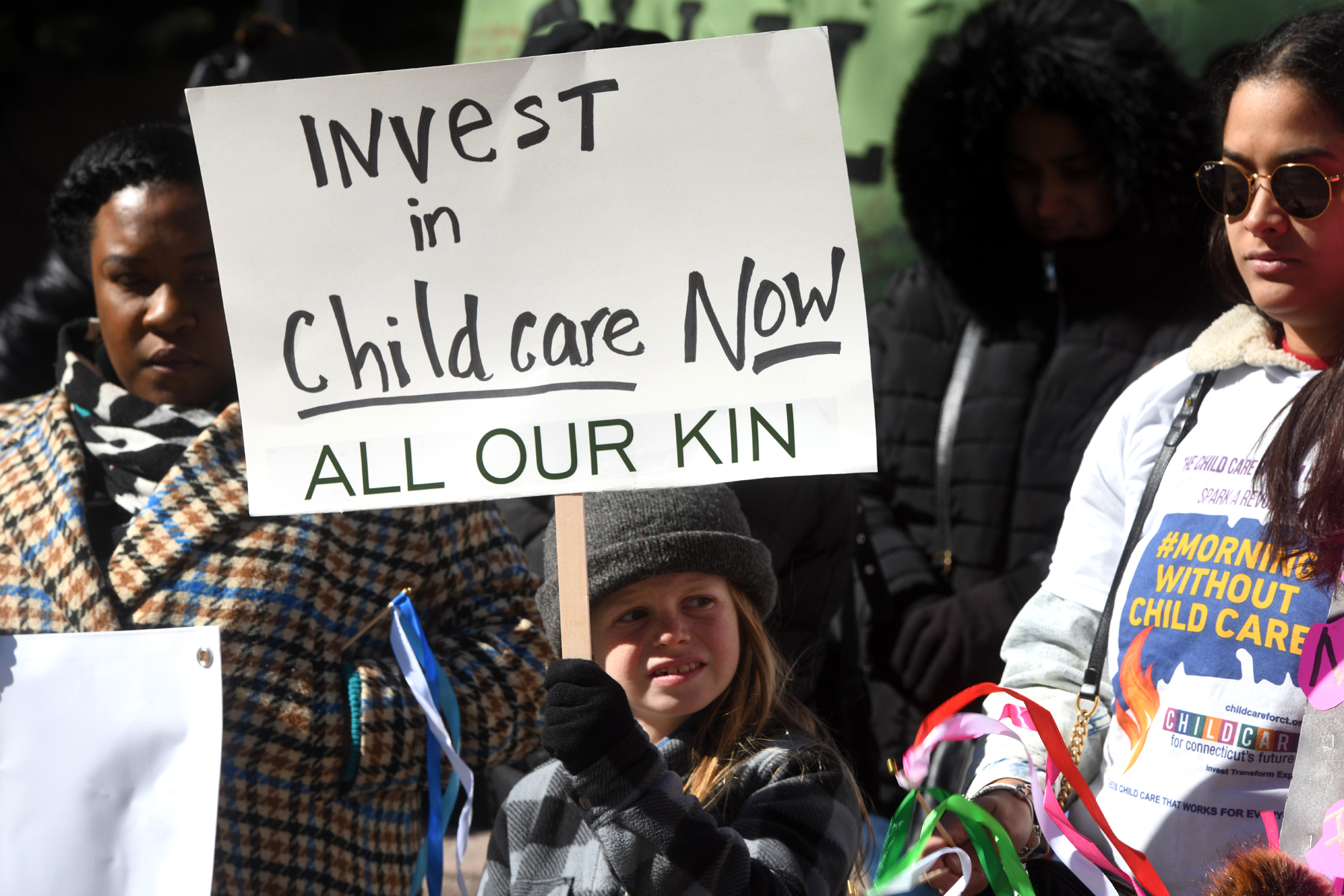 On a frigid and windy International Women's Day, many child care providers across the state opened late.
Although they usually watch children whose parents go to work, these educators, along with many families and advocates, rallied in a number of Connecticut towns to show what a morning would be like without child care. 
Child Care for Connecticut's Future, a statewide coalition of organizations, providers, parents and advocates, hosted a series of "Morning Without Child Care" events to call on legislators to invest in Connecticut's youngest residents and the people who take care of them. Dozens of people gathered in Bridgeport, Danbury, Hartford, Mansfield, New Haven, Groton, Stamford and Waterbury on Wednesday to demand investments in the child care system to make it more equitable for families and providers alike. 
In a statement issued before the rallies were held, the coalition said the proposed state budget "fell short of providing the necessary investments in child care." 
The coalition is asking for legislators to invest $700 million in the state budget for child care by 2026. The funds would go toward equitable compensation to retain and grow the workforce, specifically to adopt the state Office of Early Childhood's compensation scale for licensed centers and family care providers to make their wages similar to other educators.
The coalition also hopes these funds would provide financial relief to parents — making sure they don't pay more than 7 percent of their incomes for child care — as well as increase enrollment in all state-subsidized programs and raise reimbursement rates to providers. 
"The entire Connecticut economy rests on the shoulders of the early care and education system. And the system we operate in is broken," said Allyx Schiavone, director of the Friends Center for Children in New Haven and co-chair of the Child Care for Connecticut's Future coalition. "Families pay too much. Educators make too little. Programs can't survive. Businesses can't thrive. And children are stuck in the middle."
"We are here today because decision makers are not stepping up," she said in a statement. "We are here today because we are getting less rather than more."
In a phone call Wednesday afternoon, OEC Commissioner Beth Bye said she wasn't able to attend of the rallies but said her office plans to follow up with providers and advocates. 
"I think things are really difficult out there for programs and they're saying they need help," Bye said. "The governor's budget provides some help, but they feel it's not enough." 
"They're having their voices heard, and we certainly appreciate that," Bye added. 
The coalition also hosted a set of rallies last year to raise awareness, and Bye said she "definitely saw the impact of advocacy efforts," including "significant funds added to the budget." 
This year, it's ultimately up to the legislature, she said. 
On the McLevy Green in Bridgeport on Wednesday, about 40 providers, advocates, parents and children bundled up in thick coats and held signs demanding change. According to the coalition, between 375 and 400 people attended the rally in New Haven and 200 people went to a rally in Stamford, while numbers for the Hartford, Waterbury and Groton rallies were not immediately available. The Danbury and Mansfield rallies took place later on Wednesday evening. 
Several providers took to the microphone in Bridgeport to voice concerns about the industry, detailing how parents need child care to go to work yet many can't afford it. Meanwhile, providers are struggling to make ends meet while providing critical day care services for the young students. 
"Child care is essential," said Katherine Lantigua, owner of KColorful Daycare in Bridgeport and president of a local child care union. "We matter." 
Providers and advocates said the system needs both long-term and immediate wage enhancements. 
"The system has been broken for too long, and we've been tolerating it," Lantigua said. "Enough is enough."  
Norma Stennett, who owns Bridgeport-based home day care Scholastic Renaissance, said child care has always been imperative, but the COVID-19 pandemic brought the importance of the service to the forefront. 
During the pandemic, Stennett said she had to think on the spot constantly, making her home into a makeshift triage area to keep her students safe, helping them adjust to distance learning and investing in cleaning supplies to make sure no one got sick. Meanwhile, many of her parents were able to continue to go to work. 
"When the world shuttered and nobody could go to work, child care came to the rescue," she said. "If we were important then, we must be important now." 
August will mark eight years of Stennett operating her business. In that time, the minimum wage has increased from $9.15 an hour in 2015 to $14 in July 2022, and will rise again in July 2023 to $15 an hour. 
A narrow cost analysis of licensed family child care in Connecticut found that providers make about $8.50 an hour — well below the minimum wage — suggesting these providers "work long hours for little pay," the study said.  
"The funding that they are giving to us is not enough. It's like putting a Band-Aid on heart surgery," Stennett said. "If we don't invest in child care now, the system is going to collapse." 
Stennett sees her parents suffering, too, as they are forced to decide between paying rent or another bill and paying for child care. To Stennett, she sees her students and parents as an extension of her family. 
"I don't want my family to suffer by paying me," she said. "Child care needs to be affordable … and we need to be able to live" with a living wage. 
Korie Martin and his daughter, 3-year-old Kylie, attended the rally to support Stennett. As a parent and an electrician out of Bridgeport, Martin knows how critical high-quality child care is to his child's development, as well as to give parents peace of mind while at work. 
Since Kylie started going to "school," as she calls it, with Stennett in August, Martin said he has seen vast improvements in his daughter's socialization and learning, noting that she has already started to learn to read.  
Jill Keating Herbst, vice president of All Our Kin's Connecticut programs, a nonprofit that helps family child care educators, hoped the rallies would make some noise and bring attention to a "system on the brink of collapse."
More than 40 percent of Connecticut families are in a child care desert, she said, meaning that there aren't enough child care providers to support the number of children in an area. There are not enough child care slots to support families, either, she said, and many slots were lost during the pandemic. Meanwhile, families are already struggling to afford child care, while providers are barely skating by. 
"It's going to be a crisis and it affects everybody," Keating Herbst said. 
Isabel Almeida, president of the United Way of Western Connecticut based in Danbury, said the organization stands in solidarity with providers advocating for state resources. 
"It is imperative that our state budget include essential funding to address our current child care crisis and we need our legislators to act now," she said in a statement. "An investment in child care has immeasurable future returns – for the children served, for the workforce it sustains, and for the local economy that it supports."
Jessica Sager, co-founder and CEO of All Our Kin, attended the rally in New Haven and said attendees were both outraged and hopeful.
"The message came through loud and clear: Child care is something that matters to all of us," she said. "Educators deserve fair wages, families deserve affordable care and this is something that is essential for our state's well-being and economic recovery."
Educators closed down and attended rallies to "help our lawmakers understand that the crisis isn't over," added Christie Balka, All Our Kin's vice president of policy. "The budget presented, and the bills that are being considered right now, do not acknowledge that there's a serious crisis in our state."
Marc Jaffe, CEO of Children's Learning Centers of Fairfield County who attended the rally in Stamford, said it's a critical time for the child care system.
"The industry is more fragile than it's been in a long time, if ever," he said.
About 320 center-based and family providers have closed their doors in the past year, according to licensing data from the OEC. Jaffe said the workforce challenges are enormous, while the pipeline for teachers has "dried up."
"We have many classes empty because we don't have sufficient staff," he said. "If our system is potentially at the verge of collapsing, then tens of thousands of parents would be forced to withdraw from the workplace."
To find a child care provider, or to find which services best fit the needs of your family, call 211 or go to https://search.211childcare.org. 
Liz Hardaway may be reached at liz.hardaway@hearst.com