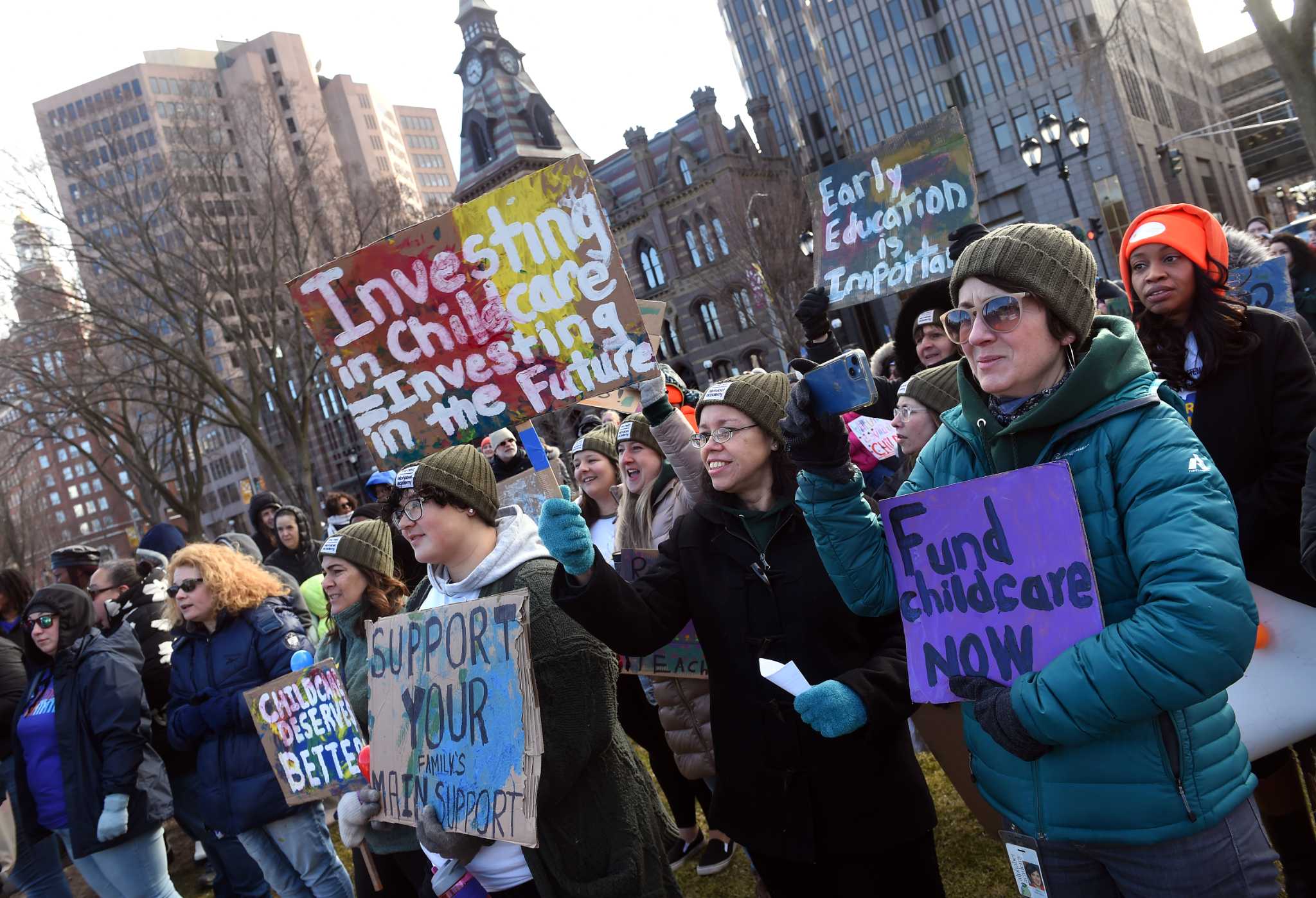 NEW HAVEN — For preschool teacher Paris Pierce, it's hard to wake up to go to work every day, feeling like she's undervalued. But the single mother of three does it regardless because of her love for her children.
"I'm teaching in poverty," Pierce said. "It's hard, really hard."
Pierce doesn't want to find a second job because that would take her time away from being with her children. In the meantime, budgeting is a way she manages to get by with her "very low" wage.
"We're calling for them to value us teachers, pay us more money," she said. "We're the foundation of these children's lives."
That's the message Pierce and about 400 other protesters echoed to state legislators Tuesday morning on the New Haven Green, renewing their call for a $700 million investment in child care in the state budget by 2026.
The "Morning Without Child Care" rally in the city among multiple events throughout the state Wednesday organized by Child Care for Connecticut's Future, including in Bridgeport, Hartford and Danbury.
Debra Kelley of All Our Kin said families shouldn't pay more than 7 percent of their annual income to get quality care.
"Every other profession asks for what they need and they get it," Kelley said. "We are shaping the future and we're at the bottom of the pay scale but the work we do shapes our future."
Child care workers nationwide earn an average of $13.22 per hour, which translates to about $27,500 annually, according to the U.S. Bureau of Labor Statistics. Allyx Schiavone, executive director of Friends Center for Children, said an average Connecticut family pays $15,000 per child yearly for child care.
Schiavone, whose children now are 19 and 21, said it's more difficult nowadays to get quality child care because New Haven is a "child care desert," because there's not enough open spots.
"The costs are so high that both parents need to work, and if both parents need to work and you have children, then you need somewhere for them to go that's safe, reliable and affordable," Schiavone said. "We don't have that right now in our system."
Patrick Dean said he expected to be at the rally with his wife and son, but his son felt "under the weather" so he needed to stay home. He said it means the two parents have to take turns staying in to take care of him instead of going to work.
"That's just one day without child care," Dean said.
Because the lack of access to child care means reduced opportunities for studying and jobs, Dean said it leads to inequality and community issues such as food insecurity, violence, health and housing.
"We also must recognize that we cannot promote economic development" as caregivers should "have access to well-paying jobs," Dean said. 
A business owner agreed. Sarah Boone, an owner of Guilford Racquet & Swim Club whose family lives in New Haven, said the economy can't run if there isn't a sustainable and affordable child care system.
Boone's business employs 35 people during the indoor season and 75 during summer. She said when her employees' children are sick, they call out to take care of them because they can't afford any options. And she said that's difficult for businesses.
"I have to make choices around people, I might lose people that I really enjoy having and they're beneficial to my team and my business' success because they have to make a choice that's better for their family," Boone said.  
Lottie Brown, a New Haven provider, said she's not in the field for the money because "the money sucks" but she's in it because families and parents need support.
"We are just as important as the pilot that's flying the airplane," Brown said.
Mayor Justin Elicker, who was at the rally with his daughter, said the research and the math is there to support that investing in kids at 0-5 years old would have impacts on them that go beyond 40-50 years old.
"If we put in the investment now, we're going to see those returns in our community," Elicker said. "People succeeding more, people more likely to own a home, to graduate from college, everything."
Elicker said the city is putting $3.5 million into expanding access to child care by supporting hours expansion and supporting innovations.
This is not the first time the child care coalition gathered to call for more funding. Schiavone said there has been a lot of progress since the last rally in New Haven in 2022 in terms of awareness of the issues and "real" movement in the legislature.
"We had $183 million added to the budget because of the work that we did here," she said. "We're hoping for a similar impact this year," which is for legislators to think about child care as a priority when they're putting together a state budget.
Gov. Ned Lamont last month proposed an increase in funding for Care 4 Kids, the state's largest child care program, $14.2 million in 2024 and $53.3 million in 2025, for a 10 percent increase for licensed providers and 5 percent increase for non-licensed providers. That's on top of some $35 million to support the program's enrollment.
The proposal also includes a 25 percent tax credit for employers to build on-site child care centers and for any child care cost subsidies they provide to their workers.
The money spent in Care 4 Kids has increased in recent years  —  $100.08 in fiscal 2019, $127.16 in fiscal 2020, $136.18 in fiscal 2021 and $177.02 in fiscal 2022. So far in this fiscal year, the Office of Early Childhood has used nearly $91.2 million as of the end of December.
Schiavone noted that Wednesday was International Women's Day, acknowledging 98 percent of those in the early care education field are women.
"When families can't afford to find care, the women stay home to take care of their children," she said. "As we gather here today to fight for decision makers to invest in child care, let's remember the people who make up this industry."
Representing their love for the job and the children, rally-goers sang, "If You're Happy and You Know It" and "You Are My Sunshine" together. To Lamont and legislators, they chanted "invest in child care now."
chatwan.mongkol@hearstmediact.com