view original
post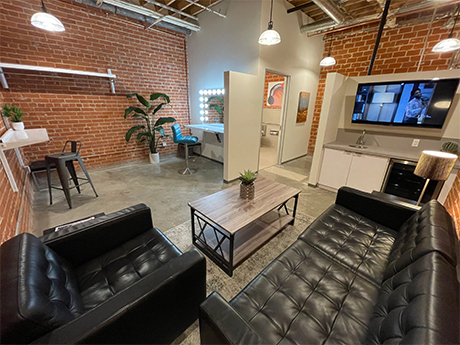 — By Nellie Day —
Santa Monica, Calif.-based BLT Enterprises has been an owner, investor, developer and manager of commercial properties since 1984. The firm has seen a lot of changes over that time, which means adaptability remains key to its strategy — and long-term survival. 
One of the ways the firm is adapting to current market conditions is through the acquisition and operation of production studios and soundstages. The most recent data on usage and demand for these product types is from the year 2020. At this time, CBRE noted there was 11 million square feet of soundstage space in North America, with half of it being in Los Angeles. Speaking of 2020, the pandemic was also responsible for a 74 percent year-over-year increase in streaming video demand. 
FilmLA's 2020 Sound Stage Production Report also noted the industry maintained an average occupancy of 94 percent that year, with the report further showing television production increased 10 percent in 2020. For comparison, studio occupancy averaged 70 percent in 2017. 
Though the world isn't locked down the way it was in 2020, digital content demand shows no signs of slowing down. Consumers will spend an estimated $151 billion on technology services, including video streaming, gaming, audio streaming and apps, in 2023, marking the industry's fifth consecutive year of growth, according to the Consumer Technology Association. 
Entities like BLT plan to be there to invest in and support that growth. The firm owns BLT Studios, a four-soundstage and backlot facility in Hollywood, Calif., that has hosted productions for major content producers like Amazon, CBS, Paramount and Disney, among others. BLT Studios has also been used for commercial shoots by companies like Levi's, Gucci and Nike. 
BLT Studios isn't the firm's only venture into this space. It purchased the Television Center in Hollywood for $64 million in 2020. The facility was repositioned and rebranded into Hollywood Exchange, a 200,000-square-foot creative campus that BLT sold to a joint venture between Bain Capital Real Estate and Bardas Investment Group for $134 million in 2022. 
WREB recently sat down with Lukas
Huberman, BLT's director of acquisitions, to discuss the production industry, acquisition strategies and why it's important to be an active operational partner in these endeavors.
WREB: What's driving demand for film studios and soundstages?
Huberman: The need for space to make content for the Netflixes, Hulus and Primes of the new streaming category is driving the mounting demand. While the "old-line" studios are busy making motion pictures, the soundstage industry has grown quickly. 
WREB: What's contributing to the rise in popularity of film studios and soundstages as an alternative real estate asset class for both private and institutional investment?
Huberman: The rise of streaming services has created intense demand for filmed content. That's the primary driver of the interest in studios as an asset to have in an institutional portfolio. Though, it's not really all that alternative. From the real estate owner's perspective, it's just like any other triple-net business. However, it is important to note there is a difference between larger soundstages and the smaller soundstages used for commercials, social media and product videos, etc. 
Larger institutional investors will focus on those larger stages, while private investors tend to gear toward the smaller stages. Social media-oriented content – think TikTok and social influencers – prefer smaller, more flexible studio spaces that larger production companies just don't have. 
At BLT, we've witnessed a sharp rise in the studio and soundstage markets since COVID. There is also a maturation of the market that started back in 2020 when Blackstone and Hudson Pacific Properties formed a joint venture focusing on studio assets. This JV put the studio property segment into a different light, and investors like BLT took notice. 
WREB: Why was it important to BLT to invest in film studios and soundstages?
Huberman: The business model has changed for studio space. It used to be short-term rentals for a season and now it's mainly shifted to longer-term leases. Investors are attracted to this change because they can now treat the agreement similarly to a standard triple-net lease. 
There is also more upside available by offering essential services that generate additional revenue. These services can include equipment rentals, lighting, catering, security, parking, and hair and makeup. Not all owners are also operators, but we think there is value to being both. When you are an owner and investor in these types of products, you're not simply a real estate holder; you're running a business. At BLT Studios in Hollywood, this means offering adaptive a la carte packages, equipment and additional on-site features that fit each client's unique needs. 
WREB: What factors contribute to the success of the sector? 
Huberman: From a location perspective, the market is expanding. We are seeing more studios pop up across North Hollywood and Burbank. From a studio size perspective, our smaller stages are still clustered in the Hollywood/Greater Los Angeles area. Outside of California, you have growing options in places like New Mexico and Atlanta. Those locations tend to be more cost effective for the content producers when it comes to access and utilities. In addition, regions are competing to attract new studios. Places like New Mexico and Vancouver give tax credit incentives, while others provide ESG (environmental, social, governance) benefit, which is an attraction for production and studio investors.  
Currently, demand for studio space to create content outpaces supply and availability. Existing studios are operating at full capacity with pressure for new development and investment in the industry.
WREB: What are some of the current challenges being faced by the sector?
Huberman: The immediate challenge is the Writers and Actors Union strike, hitting Los Angeles studios the hardest. The industry is shut down. Of course, the strike will eventually end, and the sector will go gangbusters again. We expect to continue to see increased competition when we look at acquisitions, especially with the large stages. In many cases, smaller stages are operated by mom-and-pop owners, so there are still lots of opportunities both for improved efficiency and consolidation. We purchased BLT Studios from an owner/user. We essentially acquired his business and continued running it, streamlined operations and improved overall NOI.
The high interest rates are making financing a challenge, just like every other real estate segment. Credit has dried up, so we are seeing a slowdown in deals across the board, though there are many projects in the pipeline. These include another major studio project by Bain Capital Real Estate and Bardas Investment Group — the same JV that purchased the Hollywood Exchange from us — at the old Sears site in Hollywood. East End Studio is also working on a massive project in Downtown LA's Arts District. 
Silver Lake announced last year that it would be investing $500 million to develop new studio space with Shadowbox Studios. Albuquerque, New York, Atlanta and New Orleans have seen a rash of new production developments as well, so it's not just Hollywood interested in studio real estate.