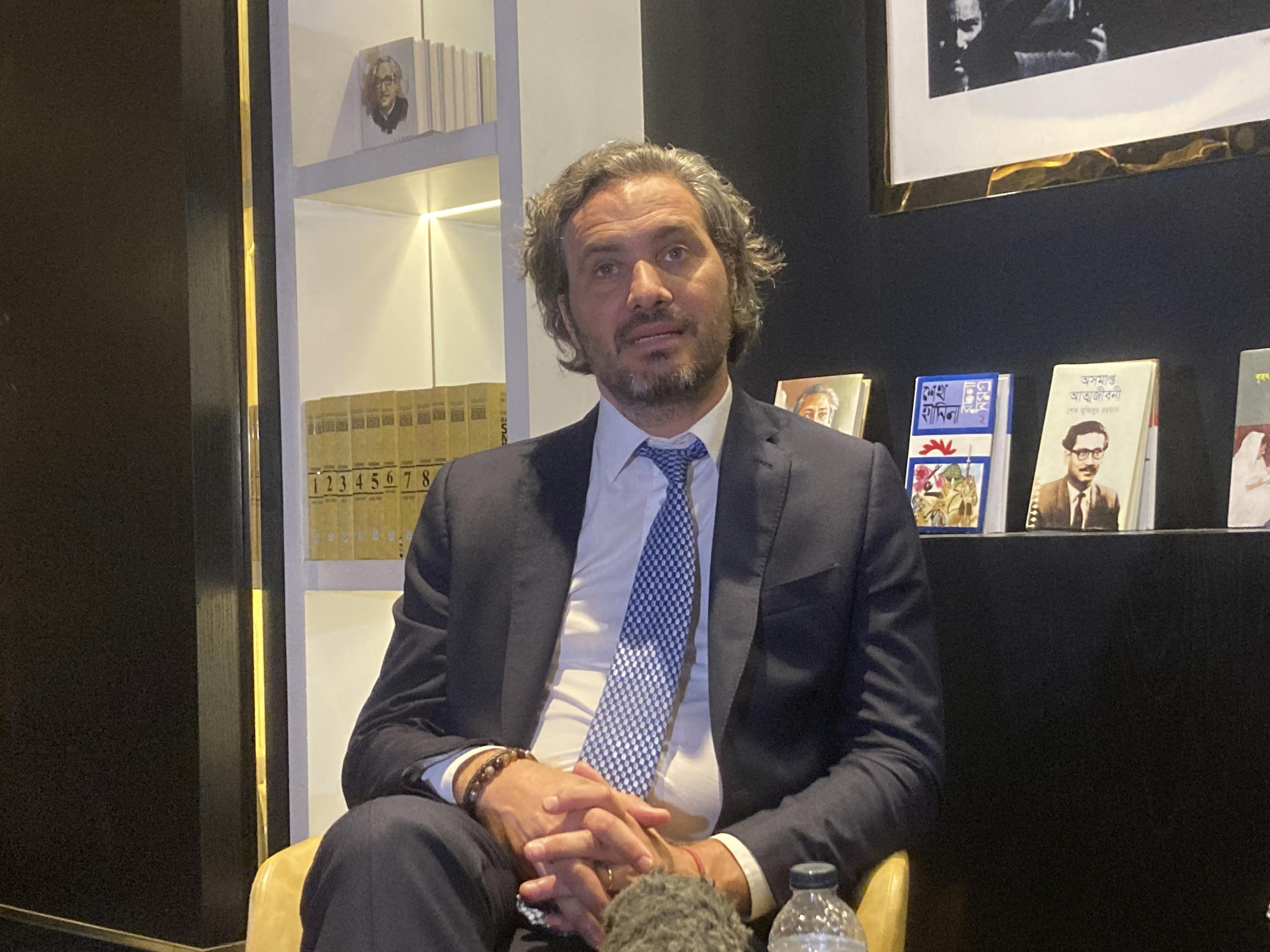 DHAKA, Bangladesh (AP) — Argentina's Foreign Minister Santiago Cafiero said Tuesday that Russia's invasion of Ukraine must stop and has not only destabilized peace but also impacted prices in his country.
"Latin America is a zone of peace, the most densely populated zone of peace," Cafiero told The Associated Press in an interview. "And we have no military developments and no military infrastructure to participate in a war that we demand should be finished and should not continue."
He said that Argentina had condemned Russia's invasion from the onset "because Argentina believes that the principle of territorial integrity was violated by Russia. Argentina has always had the same message at international forums."
"What we need is peace and escalation will only destroy … especially when it comes to creating lasting peace," he said.
Cafiero said that the war, coming on the heels of the COVID-19 pandemic, resulted in the increase in food, fertilizer and energy prices that had also impacted Argentina. "Even though we are producers, the impact on prices, of course, generated high inflation," he said.
He was in Dhaka to reopen Argentina's Embassy as a gesture toward Bangladesh and its people who fervently support Argentina in the World Cup. Soccer legends Diego Maradona and Lionel Messi are household names in Bangladesh, where thousands of Argentine flags are hoisted during the games.
Argentina was one of the first countries to recognize Bangladesh as a new nation after a nine-month war with Pakistan in 1971. Argentina opened its embassy in 1974, but it was closed by the military junta in Buenos Aires in 1977.
Argentina is looking to expand trade with Bangladesh, the 35th largest and among the top five fastest-growing economies in the world. Trade volume between Bangladesh and Argentina is currently below $1 billion.
"I believe our trade is currently below our mutual capacities. Even though there is certain volatility, I believe that based on the mechanisms and agreements we were able to establish today … we will double trade in the next two to four years with Bangladesh," Cafiero said.
He said Bangladesh could benefit from "great opportunities" in South America through the regional economic bloc Mercosur, which covers 270 million people. It can also learn from Argentina's expertise in nuclear technology for medicine, he said.
"And we can also create joint ventures to benefit our countries and for other countries as well. I believe that technology intensive companies is an area in which both Bangladesh and Argentina have a lot to explore and a lot to grow," he said.
Cafiero also met with the Bangladesh Football Federation and signed a memorandum of understanding on sports development "to build bridges with young people who want to practice sports and continue to build this relationship based on the history of our nations."
Shahriar Alam, Bangladesh's junior foreign minister, said on Monday that the reopening of Argentina's Embassy will deepen relations between the countries.
"Bangladesh is keen to expand its relations with Argentina, the leading economy in South America, in all possible areas of collaboration in depth and dimension," he said, adding that the countries share a special bond that goes beyond politics and diplomacy.