House Republicans are expecting bipartisan and bicameral support in passing legislation aimed at killing the Biden administration's proposal allowing private fiduciaries to consider environmental, social and governance (ESG) factors in Americans' retirement plans, according to the lawmaker spearheading the effort.
"Americans don't want their retirement politicized. They don't want politics as part of their retirement portfolio," Rep. Andy Barr, R-Ky., said on "Fox & Friends" Tuesday morning. "They want financial performance; they want investment returns."
Barr claimed he's expecting the House Rules Committee to vote and approve the Congressional Review Act to stop Biden's ESG rule as early as today. That law lets Congress reject any federal rule if the House and Senate can pass a resolution that says Congress disapproves of it.
The ESG rule implemented by the Department of Labor took effect in February and initially faced pushback from Republicans as being an effort to impose a social agenda on the more than 140 million Americans whose retirement plans are governed by standards set by the federal government.
DEMOCRAT-LED E.S.G. RULES WILL 'KILL' MAIN STREET, C.E.O. WARNS
For decades, those standards have said investment decisions must be guided by the goal of maximizing the return on those investments. However, the rule from Biden's Labor Department said investment plan fiduciaries can consider companies that prioritize climate change and other social issues as they invest.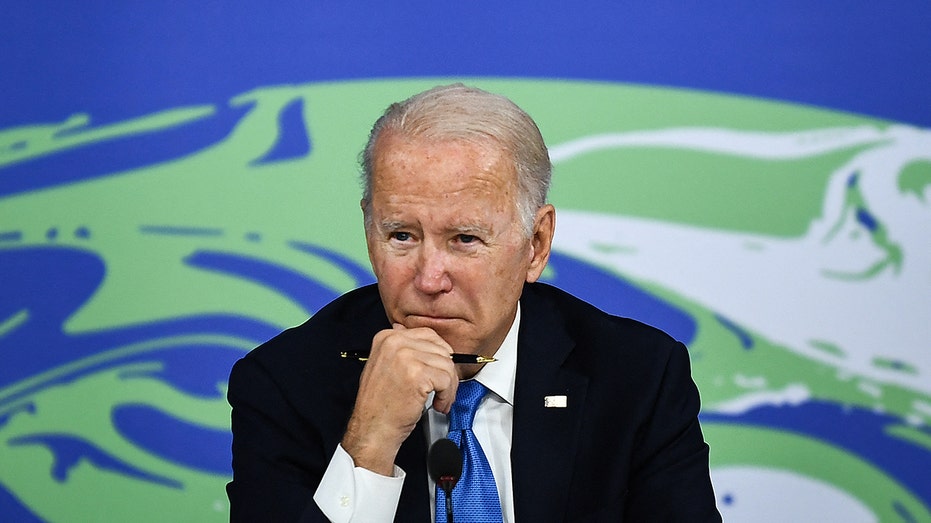 "Eight out of 10 Americans are concerned whether or not they're going to be able to afford a comfortable retirement," Barr said Tuesday. "Now is not the time to put politics or climate or social justice or other political factors ahead of financial performance in 401(k)s and other retirement plans."
After Democratic Sen. Joe Manchin, W.Va., publicly voiced support in revoking the ESG considerations, Barr expressed confidence that more Democrats will join their efforts.
"ESG by itself," Manchin told FOX Business' Grady Trimble Tuesday morning on Capitol Hill, "it just could kill our whole economy as far as in America, basically, if everything's going to be determined on just that. It should be considered, but it should also be geopolitical risk that we're taking by not doing certain things… Look what happened in Europe. Talk to the Europeans right now. Everything they've done with their ESGs, and right now they throw caution to the wind because they need energy."
"Americans don't want their retirement politicized… They want financial performance; they want investment returns."

– Rep. Andy Barr (R-KY)
"We're going to pass this bill disapproving this Department of Labor regulation that would steer Americans into lower-performance, higher-fee, less-diversified portfolios… because whether you're a Republican or a Democrat, we think most Americans don't want politics to be a factor in allocating their capital and determining whether or not they're going to have a secure retirement," the Kentucky congressman said.
Barr further argued that Biden's threat to veto the bill when it gets to the president's desk will "hurt America's retirement security."
"Here's the sad reality," Barr pointed out, "that over the last five years, if you were invested in ESG funds, your returns would be 250 basis points less than if you were in broadly diversified funds… Why? Because energy stocks have outperformed the broader market over the last year significantly. And tech stocks, which are heavy in these ESG funds, they've underperformed the market."
"These are the types of non-diversified investments that don't deliver the returns that Americans deserve and need," he continued.
House passage of the bill disapproving of the ESG rule is likely assured in the GOP-led House, and while it is not clear Democrat leaders in the Senate will take it up, the bill is supported by at least half of the upper chamber. In early February, all 49 Republican senators and Joe Manchin proposed a Senate version of Barr's legislation.
GET FOX BUSINESS ON THE GO BY CLICKING HERE
Sen. Mike Braun, R-Ind., said when he introduced the bill that "the last thing we should do is encourage fiduciaries to make decisions with a lower rate of return for purely ideological reasons."
"I'm proud to join this bipartisan resolution to prevent the proposed ESG rule from endangering retirement incomes and protect the hard-earned savings of American families," Manchin had said.
Fox News' Peter Kasperowicz contributed to this report.