Cardano's price, since mid-April, has been on a downtrend, just as other cryptocurrencies have been. As such, most of altcoin's recovery depends on broader market cues. Cardano (ADA), currently trading at $0.3577, a 0.06% decrease in the last 24 hours, hit a monthly low but is still far from its March low of $0.304.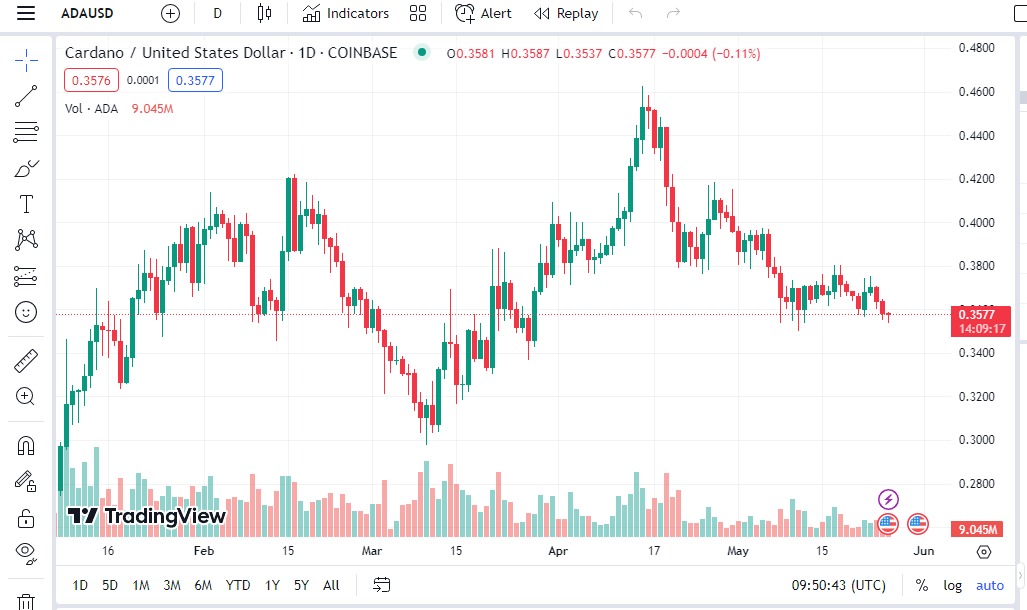 One thing that has kept ADA from falling excessively is its high correlation with Bitcoin. However, it may seem likely that ADA has also found support from its investor base.
Cardano whales have been highly active in the past week, with their transaction volume reaching a yearly high of $16 billion. Although their activity has increased since Q1 and throughout April, the sudden rise might be a bullish sign for the altcoin.
Cardano's Recovery Hinged on Its Investors
Cardano's performance is intrinsically linked to the overall conditions of the crypto market. Despite the downward trend, Cardano continues to innovate and develop its technology, which could significantly influence its future growth and adoption.
Another factor with some innate impact could be the ADA's move for recognition across borders. The recent one has been the inception of Cardano, through OKX, into the Hong Kong market. This is a move to ensure broader digital asset accessibility.
However, Cardano's quicker recovery is mostly hinged on its investors. The ADA holders have not sold, awaiting profits. Holding over 51% of the entire circulating supply, these investors have not noted a dip in their balance, suggesting a minimal selling rate.
As such, a bullish outlook from retail and whale addresses could support Cardano's price recovery.
Cardano (ADA) Price Prediction – Will Price of ADA Rebound?
Cardano has been down 10.20% this month after hitting the $0.395 resistance zone. Over the past seven days, its price has most positively correlated with the price of Bitcoin and Ethereum.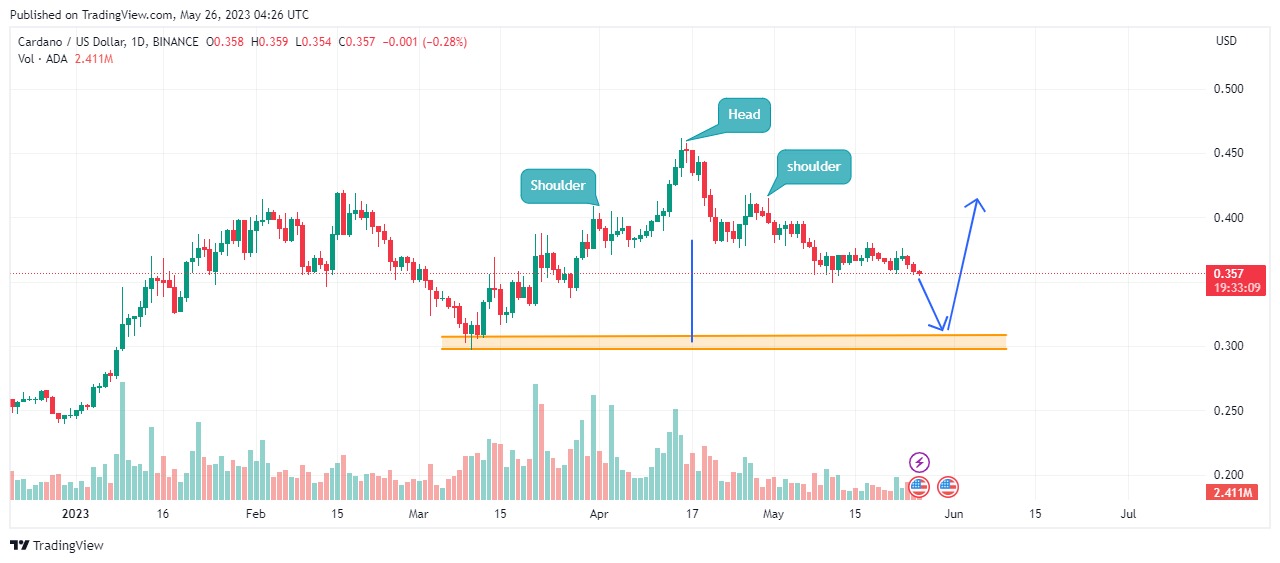 Its current price has formed the shoulder-head-shoulder pattern that shows the price will continue down to a support level at around $0.30. If the price flips, we expect the price to go back to the $0.42 level.
Cardano is trading below the 200-day moving average, signaling a selling pattern for the past two days. Our technical indicators show its current sentiment is bearish, while its Fear and Greed Index is 49 (neutral).
Cardano seems to be gaining support at $0.35. A break below the mark will be catastrophic for ADA's price, and if this level is breached, ADA will probably drop to the next support level at $0.30. However, if the price elevates above the next key resistance level at $0.3, then the price will look to climb to $0.42. This factor, however, depends on whether the market also has an upward trajectory and whether activities from retail and whale addresses support Cardano's price recovery. 
ADA must rally 10% to lock in profits and flip the critical resistance market by the 200-day Exponential Moving Average (EMA) at $0.395 into a support floor.
Take Advantage of $WSM Presale Opportunity as Alternative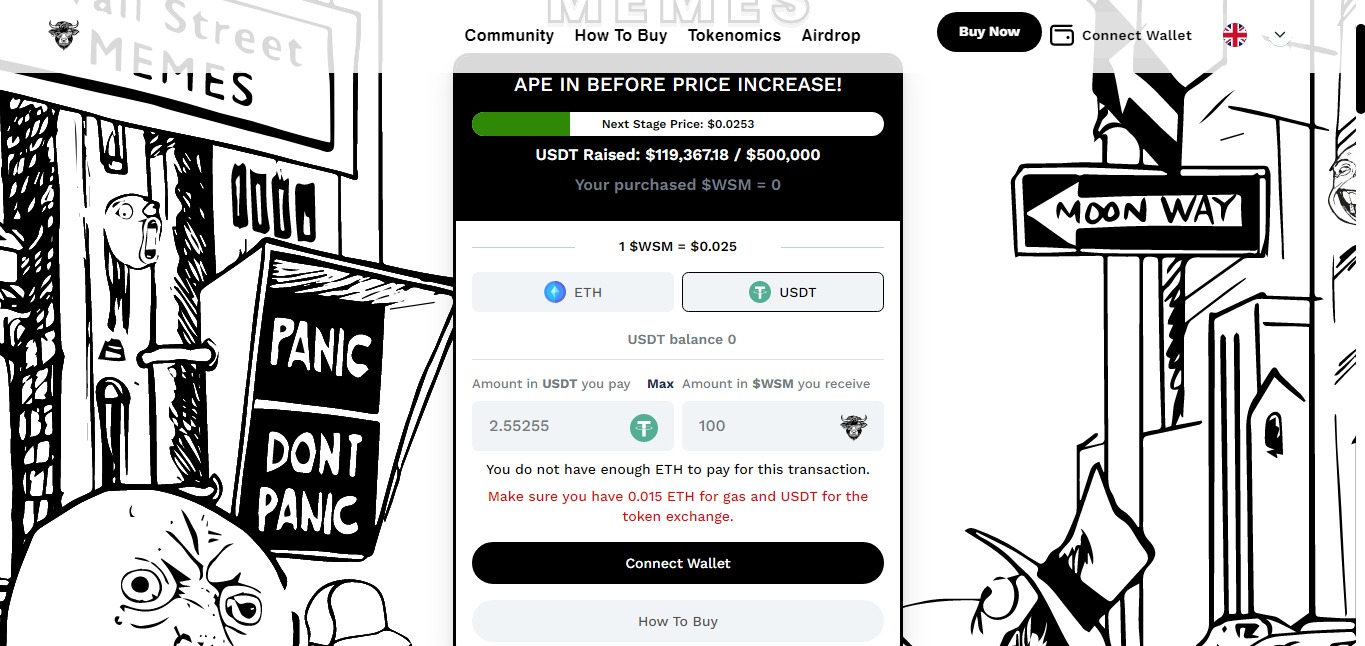 The Wall Street Memes is a decentralized platform for tokenizing the Wall Street Bets movement. $WSM is a significant expression of the internet's triumph over rampant capitalism. The reign is to support Gordon Gekko, who got rich through useless stocks signifying that‌ "greed is good".
Currently, Wall Street Memes is in its first presale stage, and 1 $WSM is worth $0.025, with the buying limit being at least 100 $WSM. With over $119,340.48 raised so far of the targeted $500,000, you can get into the project early, before the price increases when the presale enters the next stage.
The presale is a great opportunity to buy $WSM tokens using either ETH, BNB, USDT, or a bank card before they list on decentralized exchanges. You can also be eligible for their AirDrop before their launch by joining, connecting, engaging with their socials, and holding and trading $WSM.
Related
LUNA Price Prediction: Could Coin Reach New Heights of $100?
Top Crypto Gainers Today, May 25 – Kava, RNDR, AiDoge, Launchpad, yPredict, DLANCE, MATIC, ECOTERRA, HT
AiDoge – New Meme to Earn Crypto

Earn Crypto For Internet Memes
Early Presale Stages Open Now, CertiK Audited
Generate Memes with AI Text Prompts
Staking Rewards, Voting, Creator Benefits