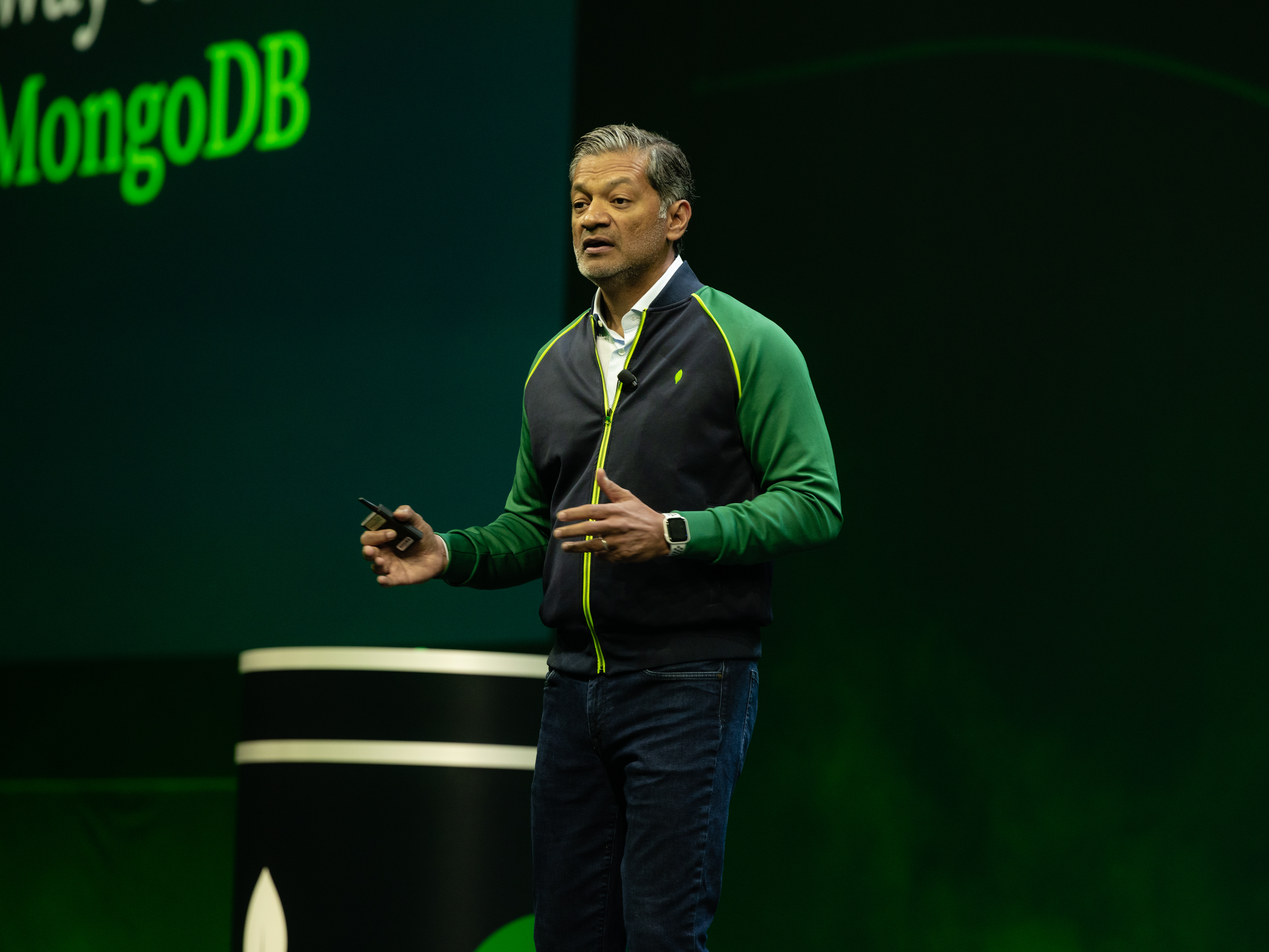 MongoDB Inc. delivered blowout fiscal first-quarter earnings results today and raised its full-year guidance thanks to a significant number of customer wins, sending its stock through the roof in extended trading.
The company reported a net loss of $54 million for the quarter, down from a loss of $77 million one year earlier. Earnings before certain costs such as stock compensation came to 56 cents per share, crushing Wall Street's target of just 19 cents per share. Revenue rose 29%, to $368 million, well ahead of the $347 million forecast.
For the next quarter, MongoDB said it's looking for earnings of between 43 and 46 cents per share on revenue of $388 million to $392 million. Wall Street was targeting a profit of just 14 cents per share on sales of $362 million.
MongoDB also raised its fiscal 2024 guidance, saying it now sees earnings of $1.42 to $1.56 per share on $1.522 billion to $1.542 billion in revenue, implying growth of 19%. Previously, the company had guided to full-year earnings of 96 cents to $1.10 per share on sales of $1.48 billion to $1.51 billion.
Investors were absolutely smitten, as MongoDB's stock jumped more than 23% in extended trading, having stayed flat during the regular session.
The company is the creator of a document-oriented database also known as MongoDB, which is used for a wide range of data-intensive applications. The company's hottest product is MongoDB Atlas, a cloud-based version of the database, though it also sells on-premises and mobile versions. All three are popular with developers thanks to their ease of use and ability to store data in multiple different formats.
MongoDB President and Chief Executive Dev Ittycheria (pictured) hailed the company's performance, especially the 40% growth in Atlas revenue and its largest number of net new customers in more than two years. He also spoke of the opportunity for MongoDB with the rise of generative artificial intelligence models such as ChatGPT.
"We believe the recent breakthroughs in AI represent the next frontier of software development," Ittycheria said. "The move to embed AI in applications requires a broad and sophisticated set of capabilities while enabling developers to move even faster to create a competitive advantage. We are confident MongoDB's developer data platform is well positioned to benefit from the next wave of AI applications in the years to come."
Dave Vellante, a longtime industry analyst and host of SiliconANGLE Media's video studio theCUBE, tweeted that MongoDB blew away operating margin expectations. "Investors will be happy with the improved profitability," he added. "They've been waiting to see that and conservative estimates last quarter are sending shares higher after-hours."
During the quarter, MongoDB added 2,300 new customers to reach a total of 43,100. The new additions include China Mobile Ltd., which reportedly migrated a service for sharing billing information to MongoDB from Oracle. On a conference call with analysts, Ittycheria said China Mobile had benefited from an 80% performance boost, while reducing the number of servers it uses from 50 to just 12.
Constellation Research Inc. analyst Doug Henschen said the spike in new customers and Atlas revenue growth were the cherries on top of strong overall growth and improved profitability. "MongoDB's relentless focus on the needs of developers continues to pay dividends, as they have plenty of work to do no matter how bad the economy might be," he said. "Its performance demonstrates that existing customers are extending their use of the platform, while new customers are embracing it too because it gives them both development agility and productivity."
Ittycheria admitted on the call that customers are scrutinizing their technology investments much more closely than before, and have to decide "which technologies are a must-have versus merely nice-to-have." However, he said innovation remains a priority inside organizations, to the benefit of MongoDB.
MongoDB's stock has performed strongly in the year to date. Before today's jump, the stock had gained 49% in the year to date, versus a 10% gain for the S&P 500 Index.
Photo: MongoDB
---
Your vote of support is important to us and it helps us keep the content FREE.
One-click below supports our mission to provide free, deep and relevant content.  
Join the community that includes more than 15,000 #CubeAlumni experts, including Amazon.com CEO Andy Jassy, Dell Technologies founder and CEO Michael Dell, Intel CEO Pat Gelsinger and many more luminaries and experts.
THANK YOU