Moody's is bullish on India's growth despite the declining GDP
Mar 01, 2023, 07:17 pm
2 min read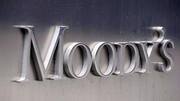 Despite a slowdown in GDP growth in the third quarter of FY23, Moody's Investor Service has upped India's economic growth estimate for 2023.

The credit rating agency now expects India's real GDP to grow at 5.5% in 2023. It had earlier pegged the growth rate at 4.8%.

Moody's has also revised the country's growth forecast for 2022 and 2024.
Why does this story matter?
Emerging economies such as India have fared well under economic conditions that are nonconducive for growth. High inflation, high interest rate, and a likely recession still remain concerns, but India has been a bright spot in an otherwise glum economic climate.
Although the country hasn't been able to keep up its GDP growth throughout quarters, it has managed to keep things under control.
Increase in capital expenditure will drive growth: Moody's
Moody's has revised its growth forecast for India for two reasons: robust economic recovery and a strong rise in capital expenditure in the Union Budget.

The budget allocated Rs. 10 trillion or 3.3% of GDP for FY24 for capital expenditure, up from Rs. 7.5 trillion for FY23.

The rise in capex can take India's real GDP to close to 7%, RBI said earlier.
Moody's lowers growth outlook for 2022
In its Global Macro Outlook 2023-2024, Moody's predicted that India's growth trajectory will continue in 2024 as well. Per the rating agency, the country's real GDP will grow by 6.5% in 2024.

On the other hand, Moody's is not very optimistic about 2022. It lowered India's growth outlook for 2022 to 6.8% from the 7% projected in November.
India's GDP slowed down for the second consecutive time
India's GDP for Q3 of FY23 was announced yesterday. The GDP fell from 6.3% in Q2 to 4.4% in Q3.

At the same time, the real and nominal GDP rose. GDP fell in the third quarter due to low private consumption, contraction in manufacturing, and low government spending.

Of the three, the fall in private consumption was the biggest drag.
Moody's has revised growth for several G20 economies
Moody's report also talks about other G20 countries. Per the report, the rating agency expects growth to fall from 2.7% in 2022 to 2% in 2023, and then increase to 2.4% in 2024 for G20 economies.

The rating agency revised the growth estimates for several G20 economies, including the US, Canada, the Euro area, India, Russia, and Turkey.