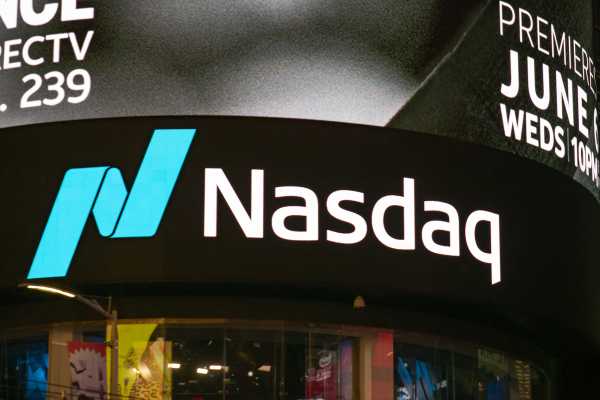 The major U.S. stock indexes are trading lower on Thursday after giving back earlier gains. The price action suggests the early move was a relief rally after yesterday's Fed minutes failed to offer anything new for investors.
The markets were also lifted by economic data that suggested the economy would be able to withstand a mild recession and by a strong sales forecast from Nvidia, which supported the chipmaker sector.
Daily Nvidia Corp
Nvidia Shares Jump 12% on Earnings and Bullish Outlook on A.I.
Nvidia shares rose more than 12% shortly after the opening on Thursday, a day after the chipmaker reported a beat on the top and bottom line. Analysts are also bullish on the company's AI vision.
Nvidia reported $6.05 billion in revenue for the fiscal fourth quarter and adjusted EPS of 88 cents, edging out the Wall Street consensus. It forecast $6.5 billion in sales for the upcoming quarter.
Analysts responded positively both to Nvidia's results and to growth in its data center business, with a slew of reiterated or upgraded ratings coming after the report. That vertical is home to most of Nvidia's sales of GPUs for artificial intelligence and grew 11% year over year.
Analysts Love Nvidia
"AI adoption is at an inflection point. Open AI's ChatGPT has captured interest worldwide, allowing people to experience AI firsthand, showing what's possibly with generative AI," CEO Jensen Huang said on a Wednesday call with analysts. Earlier this year, Huang called the transformation an "iPhone moment" at a University of California, Berkeley, fireside chat.
Goldman Sachs upgraded shares of Nvidia to a buy from neutral rating on Thursday, citing growing artificial intelligence adoption.
Analyst Toshiya Hari added that "the combination of positive estimate revisions and a potential expansion in the stock's multiple – consistent with historical recovery phases – will drive continued outperformance in the stock."
Rosenblatt Securities' Hans Mosesmann said in a Wednesday note, Nvidia's AI play is "accelerating in a way that will have disruptive implications" for both its competitors and "the world at large."
Credit Suisse's Chris Caso offered a similarly optimistic note, calling Nvidia a stock "difficult not to own" and maintaining it is a sector top pick. That assessment, Caso wrote, was driven by "a combination of derisked gaming estimates coupled with what we believe is the strongest growth potential in semis from AI/datacenter."  Caso hiked Nvidia's price target from $210 to $275.
Nvidia News Drive Investors into Chipmakers
The bullish news from Nvidia and the excitement from analysts is driving investors into the Chipmaker Sector on Thursday.
Broadly speaking, the Philadelphia SE Semiconductor Index is up about 2.7%. Supporting the move are other chipmakers such as Broadcom Inc, Qualcomm Inc, Intel Corp and Advanced Micro Devices. All of which were up between 0.3% and 3.8% shortly after the opening.