The global crypto market has taken a hit again today as it reels from several effects. The primary reason for its downtime is the SEC's renewed battle with centralized crypto exchanges, Binance.US and Coinbase. The new legal tussle was started by the US SEC on the basis of defining certain crypto assets as securities or not.
The crypto market now has its capitalization at $1.1 trillion. This is a 1.79% drop from its record on Wednesday as reported in our last next cryptocurrency to explode post. The market's total trade volume in the last 24 hours amounts to $36.96 billion. It is a 21.80% shortfall from what it recorded in the previous 24 hours.
The decentralized finance sector made $2.63 billion and it is 7.10% of the crypto market's trade value in the past day. Whereas, stablecoins saw $34.67 billion worth of trade in the same period, which amounts to 93.81% of the market's 24-hour trade volume.
Bitcoin, however, was a gainer as its market dominance is now 46.55%, shooting higher by 0.19% in 24 hours.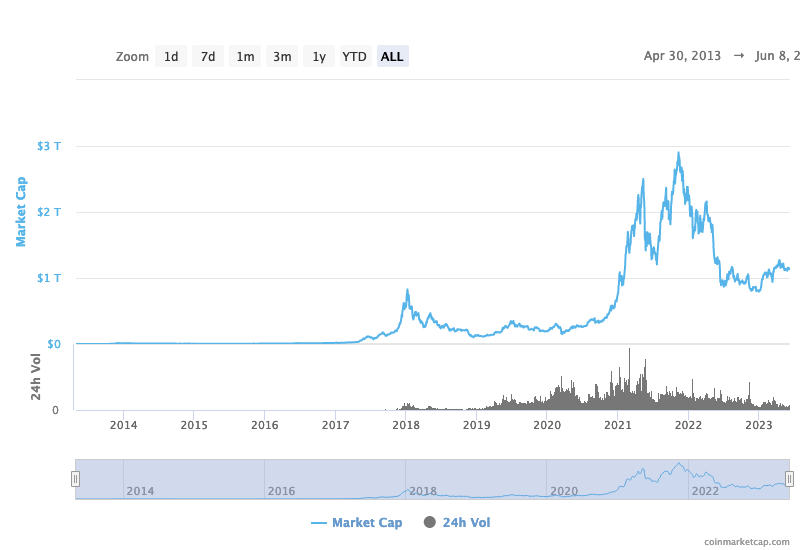 Global Market Cap Chart 
Cryptocurrencies rose for the most part of Wednesday but they began another downward spiral toward the close of business. Many of them are currently reeling in the red zone, nevertheless, this situation provides an excellent opportunity for investors who have been on the sideline to step into the market. The opportunity that this downturn presents is what forms the basis for the next cryptocurrency to explode today.
The Next Cryptocurrency To Explode
Global economic conditions also add to the woes of the crypto market. Companies in Europe are either laying off staff or at best, entering a hiring freeze. This is a result of extremely high inflation rates that have not been seen in decades. From the auto industry to food and retails, companies are cutting their staff strength by as high as 9% in some cases.
The continuous war in Ukraine also contributed to making things a bit more stringent. Although the US Secretary of Finance, Janet Yellen said inflation in the US is easing but some sectors are slow.
1. AiDoge (AI)
AiDoge raised more than $4 million during its presale and it is now counting down to its Claim and Exchange Listing day. This is just 10 days away. Investors who are yet to buy the next cryptocurrency to explode still have some time before AI is listed on exchanges. 
Presales are unique opportunities for investors to latch on to new crypto assets at cheaper rates before they go public and start selling at higher rates. Right now, AI sells at $0.0000336 per unit and it makes a good buy for investors. With the traction that the crypto asset gained during its presale, it promises to blow up quickly that market forces will cause its price to rise exponentially in a few months.
The AiDoge platform also offers a staking and reward opportunity to AI holders. The token holders can stake their holdings for the purpose of earning rewards with it in the future. This system will help investors create a passive source of income for themselves by simply engaging the platform.
Don't forget about #Aidoge's staking and rewards! 🌟

Stake, earn credits, and get rewarded with $AI tokens! It's that simple 😎

Secure your spot today before CLAIM & LAUNCH on June 19th! 🚀

👉 https://t.co/PzNuuRW5Rn#MemeCoin #Presale #Crypto #Web3 pic.twitter.com/H3zAtmxI23

— aidogecrypto (@aidogecrypto) June 7, 2023
AiDoge also set out to help people take their meme game a notch higher. The innovative platform makes use of artificial intelligence algorithms to dig up trending and hilarious memes for users. Memes so generated can be freely used on their social media and anywhere else they can be used.
Bringing the innovativeness of artificial intelligence and crypto trading to the table is a plus that AiDoge beats many crypto platforms with. It gets more properly positioned by the day to be the next big cryptocurrency to explode.
2. Polygon (MATIC)
Polygon has been down since the current market downturn began again yesterday. On-chain data is now showing that the network's native cryptocurrency, MATIC, has a spiked exchange supply. Despite that, Polygon's MATIC is the next cryptocurrency to explode.
According to reports, a crypto whale deposited a huge MATIC supply worth $95 million into Binance on Wednesday. Relevant indicators around the activity measure the overall percentage of the MATIC supply circulating and are presently stored in various centralized exchanges.
When there is an increase in the value of that metric, it is an indicator that some assets are already going into those platforms' wallets. On a general scale, the major reason an investor would deposit their assets into exchanges is to sell them. With that, this could turn out to be bearish for the value of the assets involved.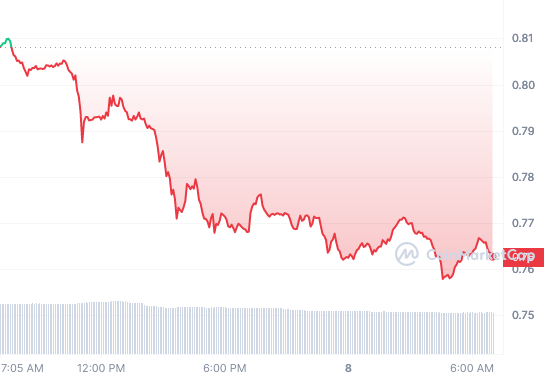 On another hand, bringing down the value of those indicators could indicate that investors are taking their assets out of those exchanges now. As it is the trend that holders move their assets into personal wallets when they want to hold them for a long time, it presents a sign of crypto accumulation. This can turn out to have a bullish outlook for the token involved. 
Polygon has seen a huge supply increase in the last 24 hours and the major contributor is a lone crypto whale. This whale was said to have deposited up to 115.3 million units of MATIC into Binance.
Indicators have now reached a value of about 9.43%. This means that over 9% of the whole MATIC market supply is held up in Binance wallets. 
There will be a MATIC clean-up going on any moment from now in the regular pattern. Once there is stability, MATIC will experience a surge and get back to its initial place. This is, then, the best time for investors to buy the dip and simply wait for a moment for things to stabilize. The next big cryptocurrency to explode might be down at the moment but it is sure to rise soon. So visit eToro for how to buy.
3. Launchpad XYZ (LPX) 
While the global crypto market is dipped in the red zone, it is not so for assets having their presale season. They are not listed on exchanges yet, so they are immune to the market's downtime. For the traction and amount of money it has made during its presale period, Launchpad XYZ is standing comfortably as the next cryptocurrency to explode.
The platform enjoys so much attention and fundraising that it took to its Twitter handle to take a comic swing at other crypto assets at this time. Launchpad XYZ admonished investors not to wait for the US Security and Exchange Commission to save their crypto portfolio (or not). It said investors should rather join the Launchpad community to learn how to consistently generate yield through Web3.
Dont wait for the #SEC to save your portfolio ( or not ) , join us at #Launchpad and learn to generate yield consistently from #Web3 . https://t.co/YcmutA6031 pic.twitter.com/Kb6IUVIwBv

— Launchpad.xyz (@launchpadlpx) June 7, 2023
In a separate tweet, Launchpad also stated that it looks like the season of memes is coming to an end. It went on to say that it is likely there is a rotation into decentralized finance and the platform has started recalibrating its algorithm to find opportunities for all its followers and users.
In yet another tweet, Launchpad XYZ told its platform followers that the crypto market is still looking weak. It said unless Bitcoin holds above $26.7k, altcoins will suffer. The safe way to play right now is in short-term scalps, according to Launchpad XYZ.
The platform currently sells at $0.0445 and has raised more than $900,000. There is still a window of opportunity to invest heavily in LPX before the presale is over.
4. Cardano (ADA)
Cardano is the next big cryptocurrency to explode but it is currently trading down by 3.28% and selling at $0.327. The downturn is a direct result of the Securities and Exchange Commission's announcement saying that ADA is a security.
Input Output Global (IOG) which developed the Cardano blockchain has now responded to the SEC's allegation with a statement. The IOG in its response to the claim says there is no provision under the US securities law that makes ADA a security. The Cardano developers rejected the claims in all its ramifications.
The response comes days after the US SEC filed a new legal action against Binance and Coinbase on allegations that they sell unregistered securities. SEC classified other leading cryptocurrencies as securities in order to boost its position. Those cryptocurrencies include Cardano's ADA, Polygon's MATIC, and Solana's SOL. The SEC said those are examples of the unregistered securities that Binance and Coinbase sell. The Commission also categorized Binance-issued tokens, BNB and BUSD as securities.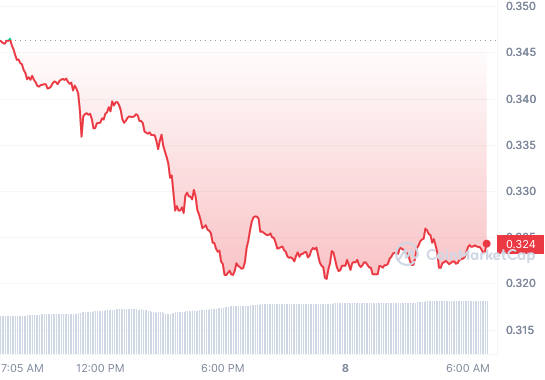 IOG expressed its shock at the Commission's misunderstanding of decentralized blockchains and how they work. It also emphasized that there is a need to work on laws that regulators will work with. The group stated further that such laws should protect users and also present a legal framework that recognizes the decentralized and transparent nature of blockchain technology.
IOG firmly stands by its rejection of the Commission's allegations and it is ready to defend its position on ADA. If the assets listed by the Commission become classified as securities, it would have other ramifications. But the firm position of the asset's developers shows there is a lot more to slugged out. 
Like the case of Ripple vs SEC, investors will have huge returns when the air finally blows over. This downtime, once again, is when investors should buy the dip of a cryptocurrency like ADA. Its position as one of the top players in the crypto market makes its early rebound definite. It also places it as the next cryptocurrency to explode. Investors should then look for how to buy ADA on eToro.
5. yPredict (YPRED)
Another coin currently enjoying its presale moment that investors should not miss out on is yPredict. It has raised over $2 million since the presale began and it is currently in its 6th stage. The statistics of its fundraiser make YPRED the next cryptocurrency to explode.
[embedded content]
According to information on the platform's presale website, there are 100 million YPRED tokens in circulation. Its market cap at listing is also about $6.5 million while there are more than 20,000 users on the waiting list. The market has proven to be absolutely ready to take on YPRED when it gets into other crypto exchanges.
yPredict, via Twitter, encouraged the general public to take advantage of the power of predictive trading that it offers. The tweet says people should come to have an experience of the insights provided by artificial intelligence tools that let traders anticipate fluctuations in the crypto market by the minute and weekly.
🔮 Unlock the power of predictive trading with https://t.co/O3DpDatBLj! 📈💰 Experience a new level of insight as AI-based tools empower traders to anticipate cryptocurrency fluctuations from minutes to weeks. Seamlessly construct custom models, test them in a simulated market,… pic.twitter.com/fhrn1Goe5E

— yPredict.ai (@yPredict_ai) June 7, 2023
It said users can easily construct models, test them in simulated markets, and start generating passive income. According to the tweet, users will also be able to offer subscriptions on the yPredict marketplace. It invariably offers users smarter ways to trade the YPRED token.
Investors should take advantage of the ongoing presale to join the yPredict train and get in line for the opportunities. The opportunity to trade smarter cannot be overlooked.
6. Polkadot (DOT)
Polkadot is also down in the crypto market as it sells by 1.89% at $5.02. Nevertheless, as a major cryptocurrency, it is the next big cryptocurrency to explode. It is such an asset that investors will hold on to and buy more of at downtimes like this.
The multi-chain platform saw a significant increase in its major metrics after launching different ambitious projects. It has an ecosystem that experiences many activities and increases adoption. Its native cryptocurrency, Dot, has also seen increased adoption. 
While Polkadot counted its wins earlier, the crypto market continued to be volatile. Several cryptocurrencies have seen high levels of price instability. This condition is currently caused by regulatory interference led by the SEC. 
Some analysts have wondered if the past growth of the Polkadot network will sustain it through this phase. We answer in the affirmative because it has been through worse and came out just fine.
According to a Twitter crypto analyst, Polkadot Insider, Polkadot has become one of the most sought-after platforms by developers who wish to launch innovative projects.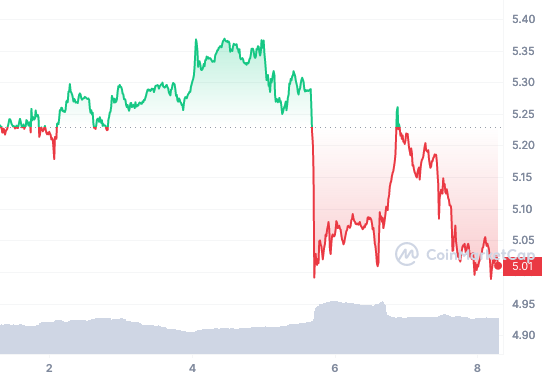 Polkadot Insider is a Polkadot and general crypto market analyst who specializes in sharing updates about the crypto ecosystem. According to the analyst, three significant parachains arose as frontrunners with regard to the interest of investors in Polkadot's ecosystem. 
These parachains are Acala Network, Manta Network, and Aster Network. They have an uncanny ability to capture the attention of many investors. This has been serving as proof of the investor confidence Polkadot has as the launchpad for good projects. 
Polkadot Insider tweeted again and drew attention to Polkadot's network data in the past week. The tweet noted that the network's native cryptocurrency, DOT, showed impressive stability with regard to the number of daily transactions and users it handles. This stability shows that it has promising prospects and it communicates confidence in its user engagement.
The level of confidence Polkadot communicates makes it the next cryptocurrency to explode right after the crypto market storm is over. Investors should then visit eToro to invest in this wonderful asset.
7. Ren (REN)
Like most other cryptocurrencies today, Ren is also trading down and it is down by 5.95% while selling at $0.0802. But it made it the next cryptocurrency to explode for a couple of reasons. 
The asset recently received a 90% long-term technical score based on its trading antecedents. This was given by InvestorsObserver, a proprietary scoring system. The system measures price movement from recent months up to one year. It also goes ahead to analyze the token's resistance and support levels, as well as where it is with regard to its averages so it could be decided if it's a good buy or not.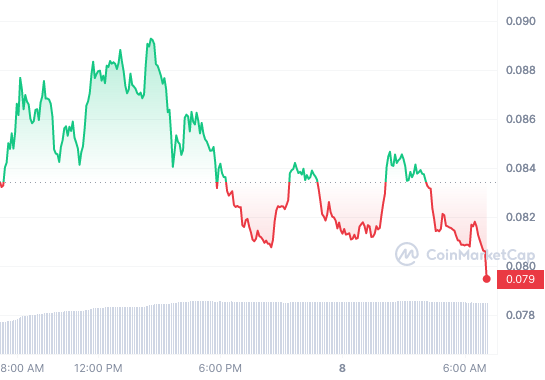 Right now, the network's native currency, REN, holds a high long-term technical score than as much as 90% of the crypto assets in circulation. This analysis is useful majorly to investors who buy assets to hold them. The kind of investors looking for steady asset growth when investing. Such assets that have high long, as well as short-term scores help to show which assets are providing the opportunity for investors to buy their dip.
Ren is providing investors an opportunity to buy heavily now as it has a high score. Its market capitalization is $81 million and it has a trade volume in the last 24 hours worth $30 million. It is evident that a recovery is imminent and investors are in for higher returns. Visit eToro for links on how to buy REN, the next big cryptocurrency to explode.
8. Immutable X (IMX)
IMX happens to be up by 0.94% right now and it sells at $0.7177. The asset is fighting hard to revive itself from the strong grip of the market's selling pressure. Its market capitalization is also up by 1.26% but still within the boundaries of $656 million.
The platform recently tweeted on its page that gaming is important in onboarding the mainstream into the Web3 space. That is where it begins, as a matter of fact. The tweet further revealed that IMVU has up to 4 million active users every month. In addition to that, the same IMVU has onboarded more than 1.2 million new crypto wallets so far.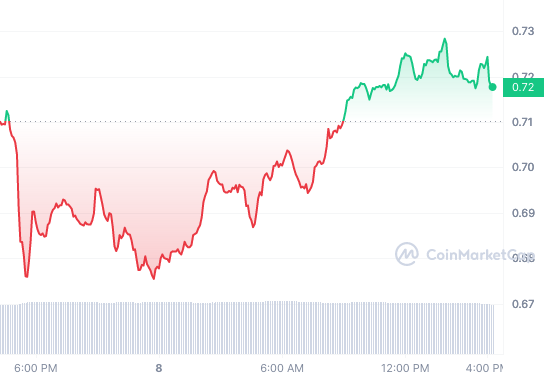 Such scaling ability is needed in the Web3 space and Immutable X brings it to the table. Its native cryptocurrency, IMX, also provides users with the power to trade and buy assets within the metaverse.
Investors should put their funds in IMX at this moment because it has shown that it can fight its way out of a bearish situation rather quickly than some other tokens. Interested investors should visit eToro to find out how to invest in the next cryptocurrency to explode. 
9. UNUS SED LEO (LEO)
LEO is the next big cryptocurrency to explode as it is one of the gainers in the market today. It is currently up by 0.06% and selling at $3.52 on the day. Its market capitalization is also over $3 billion.
Like Ren, LEO also got a good long-term technical score but not as high as Ren. LEO has just 78% from the same scoring system. InvestorsObserver equally based the score on LEO's trading antecedent. 
The asset holds a high level of long-term score than 78% of other cryptocurrencies in the market according to InvestorsObserver. This method of ranking is important to investors who buy assets to hold them for a long time. They are investors who want a steady means of growing their asset holdings when allocating their investments. Like REN too, LEO's high score indicates that it is a good buy for investors and they might want to buy it now that the price is relatively down.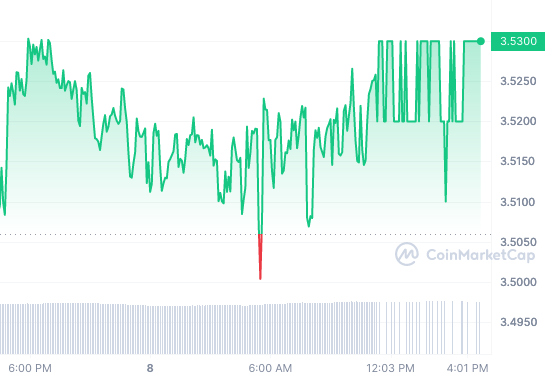 Unus SED LEO is the crypto market's 20th largest token by its market capitalization, according to CoinMarketCap. And the current price chart shows Unus SED LEO (LEO) trading at $3.52. 
The asset recorded a 0.06% increase in the last 24 hours at the time of this report. Furthermore, the last 7 days saw LEO reach a 1.26% height at the time of this publication.  
This is the best time to buy LEO as its price will jump at any moment.
Read More
Wall Street Memes – Next Big Crypto
Early Access Presale Live Now
Established Community of Stocks & Crypto Traders
Featured on BeInCrypto, Bitcoinist, Yahoo Finance
Rated Best Crypto to Buy Now In Meme Coin Sector
Team Behind OpenSea NFT Collection – Wall St Bulls
Tweets Replied to by Elon Musk