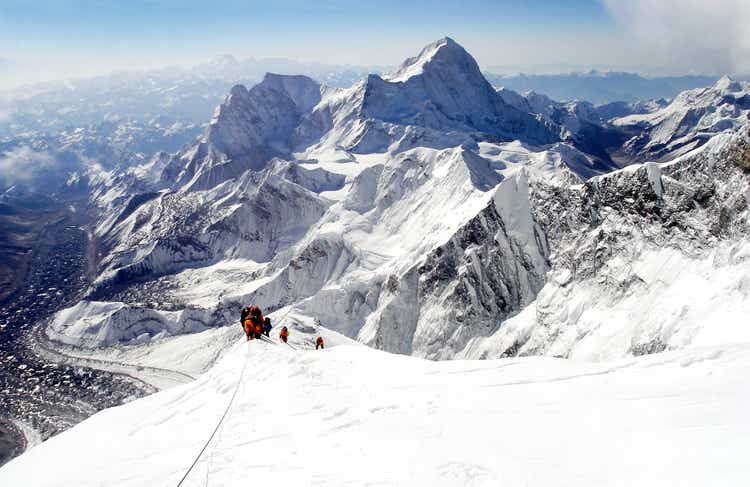 The stock market is at an elevation reminiscent of Mt. Everest and the tragic events of Into Thin Air, Morgan Stanley equity strategist Mike Wilson says.
"Many fatalities in high-altitude mountaineering have been caused by the death zone, either directly through loss of vital functions, or indirectly by wrong decisions made under stress or physical weakening that lead to accidents," Wilson wrote in a note. "This is a perfect analogy for where equity investors find themselves today, and quite frankly, where they've been many times over the past decade."
The S&P 500 (SP500) (NYSEARCA:SPY) (IVV) (VOO) (SPXU) (UPRO) is up 6.7% year to date. The Nasdaq 100 (NDX) (QQQ) is up 13.8%, the Dow (DJI) (DIA) up 2.1% and among small-caps the Russell 2000 (RTY) (IWM) (VTWO) is up 10.5%.
Talk of a soft landing has morphed into that of no landing, "whatever that means," Wilson said. "Such are the tricks the death zone plays on the mind – one starts to see and believe in things that don't exist."
"With the P/E now at 18.6x and the ERP at just 155bp, we are in the thinnest air of the entire liquidity-driven secular bull market that began back in 2009," Wilson added. "Meanwhile, interest rates (TBT) (TLT) (SHY) (IEF) (IEI) are breaking out to the upside with inflation turning back up and a Fed pause now off the table."
"Bottom line: the bear market rally that began in October from reasonable prices and low expectations has morphed into a speculative frenzy based on a Fed pause/pivot that isn't coming." (Emphasis added.)
"And, while the economic situation appears to have improved at the margin, this will not forestall the earnings recession that has a long way to go, based on our negative operating leverage scenario that is well under way," Wilson said.
In contrast, BMO's Brian Belski argues that the recent stock rally is much broader and less speculative than people think.