Following the end of the crypto winter, many expect great things from Bitcoin in 2023.
The crypto industry's first digital currency continues to rise in popularity and adoption, with many factors hinting at the bullish behavior moving forward, and particularly in June 2023.
While it is likely still early for another great rally such as the ones in 2017 and 2021, Bitcoin price can still see growth as it recovers from the losses of 2022, which have left it largely undervalued.
Investor confidence in BTC rises after US debt ceiling deal
The United States recently managed to reach an agreement to raise its debt ceiling, which now stands at $31.4 trillion.
Thanks to the agreement, the country managed to avoid the risk of a default for the time being. However, the deal has had other consequences, such as raising investor optimism regarding the crypto industry, specifically Bitcoin.
314-117: The House passes the Biden-McCarthy debt ceiling agreement, raising the debt limit until 2025 and instituting discretionary spending caps for two years.

71 Republicans and 46 Democrats voted "no" on the bill. pic.twitter.com/RdU42whDd5

— The Recount (@therecount) June 1, 2023
As part of the deal, the country has also removed a tax on energy consumption for crypto miners, further encouraging the crypto community and allowing non-participants to consider joining.
On the other hand, Blackrock CEO Laurence Fink stated that the recent "drama" involving the debt ceiling had negatively affected the global trust in the US dollar.
With no other fiat currency being strong enough to act as an alternative, analysts believe that Bitcoin might start attracting more users.
Bitcoin price is still "ahead of itself" despite dropping below $27,000
Bitcoin saw a dip on Wednesday, May 31, which led its price from a support at $27,600 to $26,900, but then near the end of the day, the asset saw a slight surge.
The result of the new movement was that BTC closed Wednesday with a price sitting at $27,300.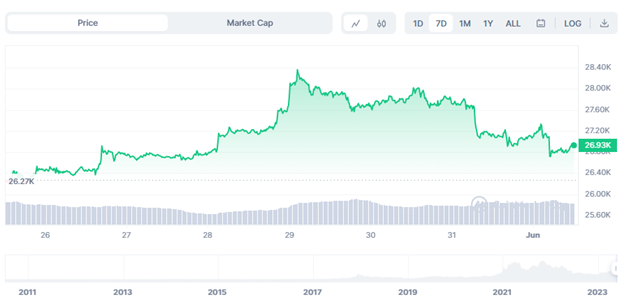 However, on June 1st, BTC repeated yesterday's behavior, seeing another dip which led its price to $26,670 in the early morning, only to see a slight recovery since then.
The coin's price currently sits at $26,887 as the asset continues to rise. Whether it will climb back to $27k and possibly go above it remains to be seen.
However, BTC appears to be bouncing back from the early morning's losses.
Bitcoin price prediction
At the time of writing, BTC price is recovering from the dip, sitting at $26,887. Previously, it successfully managed to complete a 50% Fibonacci retracement around the $27,500 level, only to drop further on early June 1st.
Given previously mentioned events, it is possible that Bitcoin will see more interest — and greater demand, as a result — in June 2023.
Bitcoin's longs vs shorts ratio is slightly more bullish than bearish, indicating that there is some optimism among market participants.
The appearance of an inverted hammer on the 24-hour chart is also a good sign, although the signal, on its own, offers no guarantees.
An alternative investment
At this point in time, Bitcoin price could go either way, which is not enough to provide investors with confidence. However, there is a solid alternative in the form of a new cryptocurrency that is holding a presale right now.
The token in question is called Ecoterra, which is available at a price of $0.0085 per ECOTERRA.
The token is available in exchange for ETH, USDT, or fiat currencies, with credit and debit cards available as payment methods.
So far, it has raised over $4.6 million, with the current phase ending in two and a half days, when the price will jump to $0.00925 per token.
Ecoterra emerged as a blockchain ecosystem for user rewards and company action on climate change.
It features an all-in-one Recycle2Earn app, where users can use recycling tokens and ecology actions made available to empower firms and reward consumers.
Related
[embedded content]
Wall Street Memes – Next Big Crypto
Early Access Presale Live Now
Established Community of Stocks & Crypto Traders
Featured on BeInCrypto, Bitcoinist, Yahoo Finance
Rated Best Crypto to Buy Now In Meme Coin Sector
Team Behind OpenSea NFT Collection – Wall St Bulls
Tweets Replied to by Elon Musk