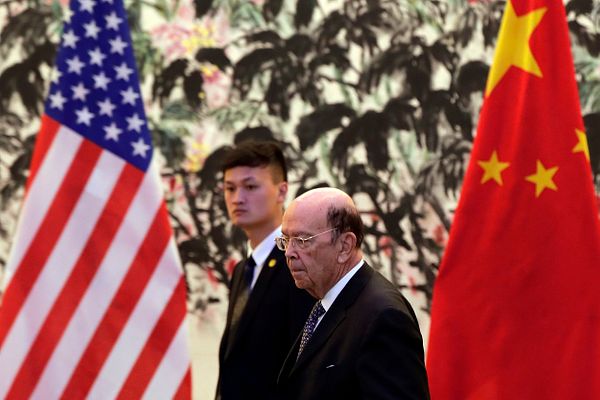 With the start date looming for U.S. tariffs on Chinese goods, the latest round of U.S.-China trade discussions — possibly the last before tariffs take effect — ended without a breakthrough. U.S. Commerce Secretary Wilbur Ross was in Beijing on June 2 and 3, for talks with Chinese officials led by Vice Premier Liu He, according to Xinhua. Neither side seemed particularly happy with the progress made at the latest discussions.
The United States and China seemed to have reached a breakthrough previously, only for that agreement to come quickly undone. As The Diplomat reported previously, on May 20 U.S. Treasury Secretary Steven Mnuchin declared the trade war to be "on hold." But just nine days later, a White House statement declared the U.S. intention to place a 25 percent tariffs on $50 billion worth of Chinese imports, focusing on technology products.
China's Ministry of Commerce, in response, took a dig at the flip-flopping from Washington, saying "We are both surprised and unsurprised at the statement, which is obviously contrary to the consensus reached between China and the U.S. in Washington not long ago."
The rapid turn from tariffs to truce and back to tariffs points to divergent approaches within the Trump administration. Mnuchin, who announced the truce in mid-May, has been at loggerheads with more protectionist-minded Trump administration figures. In mid-May, a number of reports emerged claiming that Mnuchin and White House economic adviser Peter Navarro got into "a profanity-laced screaming match" during the last round of U.S.-China negotiations in Beijing. Those tensions continued last week, with Navarro dismissing Mnuchin's quote that the Trump administration was "putting the trade war on hold" as "an unfortunate soundbite."
The Trump administration's quick turn away from the trade truce may also have been motivated by the negative response to the fledgling U.S.-China deal in domestic circles. Critics accused Trump of being "soft" on China, and effectively getting taken for a ride. For example, Republican Senator Marco Rubio (one of Trump's competitors for the 2016 presidential nomination) tweeted, "Sadly #China is out-negotiating the administration & winning the trade talks right now. They have avoided tariffs & got a #ZTE deal without giving up anything meaningful in return … This is #NotWinning." (After the new announcement on tariffs, Rubio tweeted, "Great move yesterday by @Potus [President of the United States] to confront #China on its economic abuses.")
Given that the "framework" reached at the previous U.S.-China trade talks dissolved in a matter of days, expectations were low for Ross' visit this week. Sure enough, there was no joint statement issued after the talks.
A Chinese government statement noted that "the two sides have had good communication in various areas such as agriculture and energy, and have made positive and concrete progress while relevant details are yet to be confirmed by both sides." In other words, it will take more negotiations before any sort of deal can be announced.
More tellingly, the statement warned that promises made at previous talks would not be upheld if the Trump administration carried through on its threat of tariffs. "All economic and trade outcomes of the talks will not take effect if the U.S. side imposes any trade sanctions including raising tariffs," the statement said, as reported by Xinhua. Previously, the Chinese government had agreed to increase its purchases of U.S. agriculture and energy products in a bid to decrease the trade deficit.
According to the United States, making sure that pledge was fulfilled was the main focus of Ross' trip. A statement from the White House said that "The meetings focused on reducing the United States' trade deficit by facilitating the supply of agricultural and energy products to meet China's growing consumption needs." Oddly, there was no mention of either the looming tariffs or the stated rationale behind them – other than a brief reference to "President Donald J. Trump's clear goal for achieving a fair trading relationship with China."
With Washington set to unveil the final list of Chinese products targeted by tariffs on June 15, time is running short for the two sides to avoid the first salvo in the trade war. China has promised to enact retaliatory sanctions of its own – targeting U.S. agricultural goods, automobiles, and aircraft — as soon as the U.S. tariffs begin.
A report from S&P Global Ratings in early May predicted that, if the tariffs move ahead, it could lower GDP growth by 0.1 percent and cost nearly 80,000 jobs in the United States. The perceived high costs of a trade war had previously kept either side from seriously considering tariffs.
Now, however, the Trump administration argues that the cost of not responding to China's "unfair trade practices — including dumping, discriminatory non-tariff barriers, forced technology transfer, over capacity, and industrial subsidies —" is more costly than the economic hit of tariffs. As long as that viewpoint holds sway in the White House, the trade war will move forward.