The cryptocurrency market is doing very well today after the shock wave that swept it on Tuesday. The total market capitalization is now up by 2.83% to sit at $1.12 trillion over what was recorded in our last next cryptocurrency to explode post.
The crypto market had a trading volume worth $47.18 billion in the last 24 hours. That amounts to a 2.56% rise over the previous day. Decentralized finance, on the one hand, recorded a trading volume of $2.93 billion which represents 6.22% of the market's trade. While stablecoins had trade volumes worth $44.16 billion which represents 93.60% of the market volume in the last day.
Bitcoin dominance gained 0.58% over its position on Tuesday and it retains a 46.36% dominance over the market.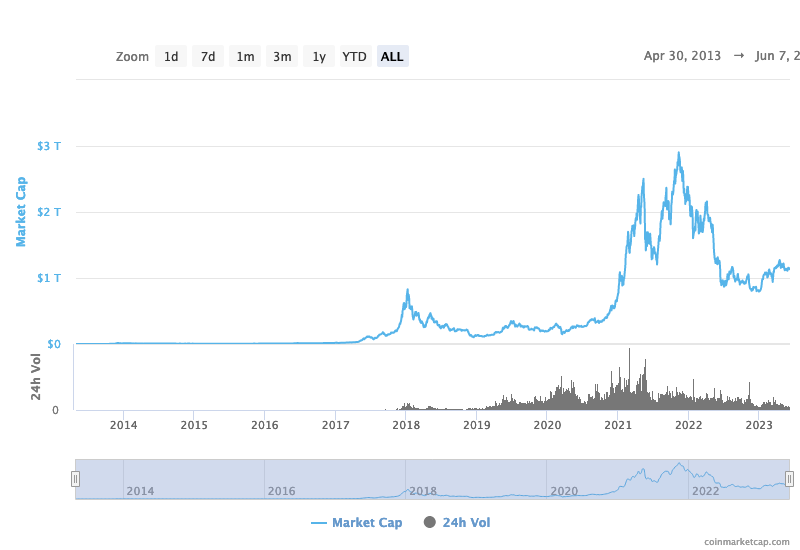 Global Market Cap Chart
The market managed to raise its head despite the recent crackdown on crypto in the US through the Security and Exchange Commission. The SEC is hounding Binance and Coinbase for allegedly selling unregistered securities. It is an allegation that Binance has responded to saying it is false. Importantly, Binance says its BNB and BUSD tokens under investigation have been said by the CTFC not to be securities.
The Next Cryptocurrency To Explode
The market's strength today did not derive from only crypto market players but was a result of many factors. Banks in the US had their stocks rebounding and it had a spill-over effect into other aspects of the economy. The crypto market also benefited from it. The top gainers and beneficiaries make our list of the next cryptocurrencies to explode today.
1. DeeLance (DLANCE)
The first asset on the list of the next cryptocurrency to explode today is DeeLance. The platform has 11 days to the end of the 4th stage of its presale and it has raised over $1.2 million. 
The platform recently announced via its Twitter page that users will be able to use the DLANCE token within the ecosystem for various things. Some of them include getting discounts on gigs, buying land, offices, and NFTs. Other use cases of the DLANCE token will be that it will be used to pay for advertisements, the metaverse VIP experience, and a lot more. 
Hey DeeLancers! 👨‍💻

You'll be able to use $DLANCE in the DeeLance Ecosystem for:

Discount on gig, buying office, land, NFTs, premium features, advertisement, Metaverse VIP experience & more! 💪

Get your $DLANCE tokens now ⬇️https://t.co/XHnTqVzeWf#DLANCE $ETH #Crypto #NFT pic.twitter.com/7IcURPGLv4

— DeeLance (@deelance_com) June 6, 2023
As events unfold, DeeLance will become more than a place where freelancers and their employers meet but a place with full-blown commercial activities and other ventures. Its NFT marketplace also has the potential of becoming as large as OpenSea because of the other utilities it provides.
The DeeLance metaverse is another aspect of the project that holds much more possibilities. As a platform that makes finding and doing work easy, it will attract more users as the years go by because of the global job search rate. Creating a platform that can let users have alternative realities while actively dealing with their current ones is what DeeLance also brings to the table.
Currently selling at $0.038, investors are urged to get as much DLANCE as they can afford now before its next price jump. The asset will sell at $0.043 at its next stage which begins in 12 days. 
Investors should visit DeeLance to buy now.
2. dYdX (DYDX)
The DYDX token of the network, dYdX, is currently trading at $2.06 with a 5.13% increase over the last day. This comes despite the sharp drop the crypto market experienced. The token traded in the red zone for a time before the market stabilized in the early hours of today.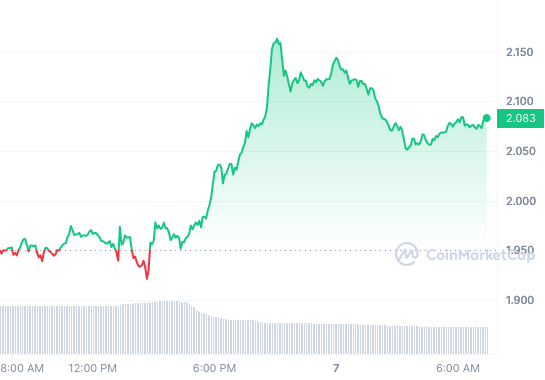 Its recovery speed and its ability to jump over 5% in less than 24 hours make it fit to be called the next cryptocurrency to explode. The platform tweeted via its handle that it saw $998 million in 24 hours with 281,000 trades.
dYdX saw $998,000,000 in 24-hour trade volume and 281,000 trades yesterday.

— dYdX (@dYdX) June 6, 2023
The enormous strength it displayed in this short period speaks of the level of investor confidence in the DYDX asset. Investors who wish to put funds in a token with good community support might have found one. As a decentralized exchange built on Ethereum's blockchain, it supports continuous trading and compatibility with ERC-20 tokens. As such, users trade their assets with no need for intermediaries. 
For those who did not buy the dip yesterday, here is another opportunity to invest in DYDX while its price is still rising afresh. eToro is where to look for the next cryptocurrency to explode at this time.
3. Ecoterra (ECOTERRA)
Cryptocurrencies on presale are immune to market downturns as was seen on Tuesday. That's why a network like Ecoterra and its investors could not have been bothered while it went on.
Now in its 8th stage, the presale has raised over $4.8 million as seen on the network's website and publicized on its Twitter page. Furthermore, Ecoterra announced on its Twitter page that it was reducing trading fees to significant levels. This decision came on the back of high Ethereum fees caused by memecoin trading on decentralized exchanges last month, according to the tweet. The platform encouraged investors to make the most of the opportunity by joining its presale with low gas-free Ethereum.
🗞️ After costly #Ethereum transactions caused by #Memecoin trading on #DEX last month, average fees have now significantly dropped to affordable levels 🎉

Make the most of this now by joining the $ECOTERRA #Presale with some low gas-fee-ETH ⬇️https://t.co/1fYkPOsPYG

— ecoterra (@ecoterraio) June 5, 2023
As a platform committed to sustainability in the Web3 era, Ecoterra encourages users properly dispose of waste and get rewarded for doing so. Its partnerships with other brand help give it the needed traction.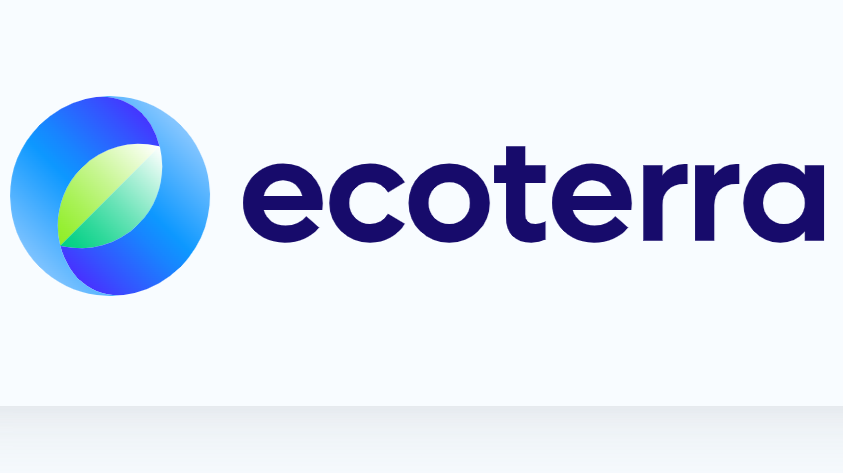 There are 21 days to the end of the 8th stage of the presale and it currently sells at $0.00925. ECOTERRA will sell at $0.01 when it reaches stage 9 but investors should not wait till then. The next cryptocurrency to explode, according to its growth pattern, will bring huge returns to investors in the future.
4. EOS (EOS)
EOS is a completely decentralized network built on the blockchain. It facilitates the development, hosting, as well as execution of decentralized applications on a commercial scale. The cryptocurrency is used to buy or rent access to the network's bandwidth as well as storage capacity. The token is also used to take part in decentralized proof-of-stake network operations and network governance. It equally serves as a value account on applications based on EOS.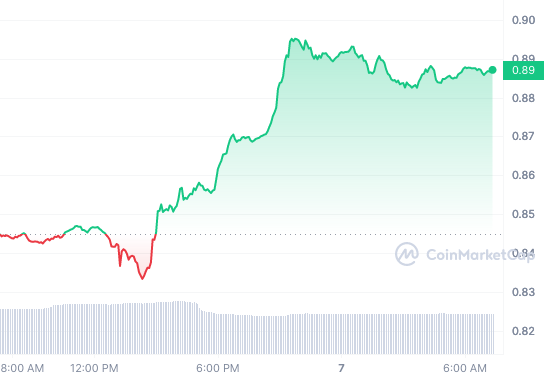 The EOS token currently sells at $0.88 while it rose by 3.86% in the last 24 hours. It is an encouraging feat to investors who might have considered it at some point. 
Its other utilities include support for the major functionalities that let individuals and businesses create their decentralized applications. This is usually in ways that are identical to the ways web apps are typically created. Some users have gone as far as comparing it to the way Apple's App Store and Google's Play Store work.
EOS token holders can stake their tokens so they could take part in different processes. Users who stake their EOS tokens can vote and make decisions that would change the software's laws or take part in validating the blockchain. The token can equally be used to carry out transactions on the platform. The platform has the capacity to support 1 million transactions every second.
Interested investors should visit eToro for the next cryptocurrency to explode. This is simply the right time to buy the asset.
5. Wall Street Memes (WSM)
The next cryptocurrency to explode now is Wall Street Memes. Still, in its presale phase, the asset has raised over $4.8 million. Investors and the crypto community at large share a lot of optimism about the WSM token such that there is no negative feedback anywhere.
Selling at $0.0277, there is a long way for the Wall Street Memes token to go as it looks to raise over $6 million. The next presale stage will see the asset sell higher at $0.028.
Wall Street Memes have been on every lip since its presale was launched. Literally the talk of the town. It is a project that drew its inspiration from the WallStreetBets subculture that was created. The subculture gained traction in 2021 after the AMC and GameStop short squeezes. Nevertheless, the developers of this project were already experienced with similar projects. They created the Wall Street Bulls NFT collection which generated $2.5 million and sold out in 32 minutes after its launch.
The team now focuses on the crypto market and decided to launch the Wall Street Memes token, WSM. This token which is focused on the community sets out to empower its holders so they could continue to benefit from the community's evolution. Right now the community already has over a million people involved in it.
Crypto influencers have equally declared their confidence in the token. One of them is the popular crypto YouTube channel, My Financial Friend. With more than 230,000 followers, he made a video where he suggested that WSM could rise to be a 10x meme coin soon.
[embedded content]
The effect such a show of confidence will generate cannot be quantified. The video from My Financial Friend created a lot of buzz around the token and contributed to the project's huge fundraising effort.
Investors who have not gotten the Wall Street Memes token still have the chance to do so. Just visit Wall Street Memes.
6. Dogecoin (DOGE)
Dogecoin, like a number of other cryptocurrencies, is posting a rebound following the selling pressure that hit the market on Tuesday. As stated, it was a result of the SEC's legal action against Binance and Coinbase.
After the US SEC announced its lawsuit against Binance on Monday, a second one swiftly followed on Tuesday. It shook the market to its roots but the market quickly rose again on Wednesday. Dogecoin which is the market's 8th largest cryptocurrency is up by 2.64% at the time of this report. It is also currently selling at $0.06812 while its market capitalization remains in the $10 billion region.
The rebound has managed to reverse losses for crypto traders who are reeling from Monday's shock. At that time, more than $293 million in token-tracked futures products got liquidated.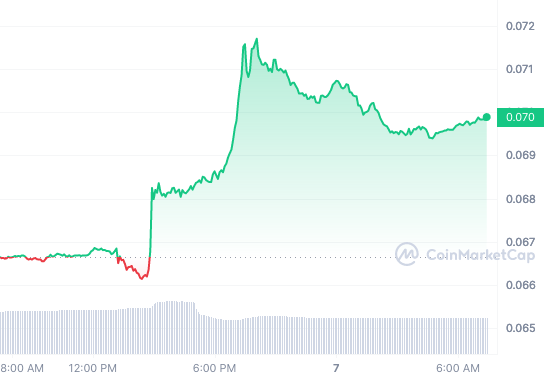 Liquidation happens when a crypto exchange forcefully closes traders' leveraged positions as a result of a total or partial loss of their initial margin. It is simply when a trader becomes unable to meet the requirements for a leveraged position.
Large liquidations can show that there is a local top or bottom of a sharp price move, which may let traders position themselves well.
The strength of this crypto asset in changing the tide so quickly makes it worthy of being the next cryptocurrency to explode. DOGE had risen above 5% in the early hours of Tuesday but got back down for a bit. Investors should latch on to it now before its value rises too high again. You should check it on eToro now.
7. XRP (XRP)
XRP is also now in a good place today after the market scare on Tuesday. Like Dogecoin, the next big cryptocurrency to explode is also rebounding and posting gains. Right now, it is selling at 5.60% up and trading at $0.5287. XRP's market capitalization is also still in its $27 billion zone.
The asset's current price means that it has risen by up to 3.54% in the last 7 days and 15.23% in the last month. By and large, XRP's value has risen by 55% between January and now.
XRP performed better than most cryptocurrencies in the market today especially because the SEC did not mention it in the recent suit. But it should be noted, however, that neither Binance nor Coinbase lists XRP on their exchanges.
Nevertheless, Ripple looks forward to a settlement in its favor in the lawsuit with the SEC. That means XRP might see a huge rally soon.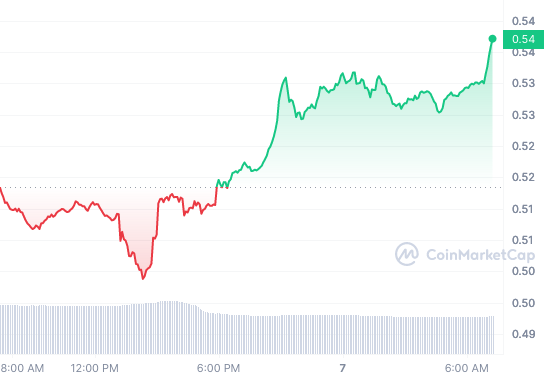 For its price prediction, all XRP indicators are actually showing mixed signals. It does not come as a surprise since the last few days have been turbulent. The relative strength index rose by 20 points from yesterday's position. That only shows an improved positive momentum. 
In the same way, the cryptocurrency's 30-day simple moving average has begun to look upward after it flattened yesterday. It simply means that the SEC's recent action did not really affect the altcoin. All these put XRP in an excellent position where it can easily rally in the coming days when its legal path is clear.
The SEC is said to have recently received legal advice that XRP is not a security. The disclosure of that document undermines the SEC's argument against Ripple.
In addition to that, other developments around the case increase the possibility of Ripple's victory. It will most likely receive a summary judgment that will make it go about its business as usual. 
The next cryptocurrency to explode should be checked on eToro so investors can buy now.
8. Bitcoin (BTC)
Bitcoin is not just the next cryptocurrency to explode but indeed the king coin of the crypto market. Since recovering from yesterday's downtime, it is now trading up by 4.34% at $26,816.66.
As the first cryptocurrency to go public, Bitcoin really sets the pace for other crypto assets irrespective of their categories. A Bitcoin analyst, however, thinks the problem with Bitcoin is its marketing. The analyst, Joe Hall, said this when asked to address both the strengths and weaknesses of the king coin.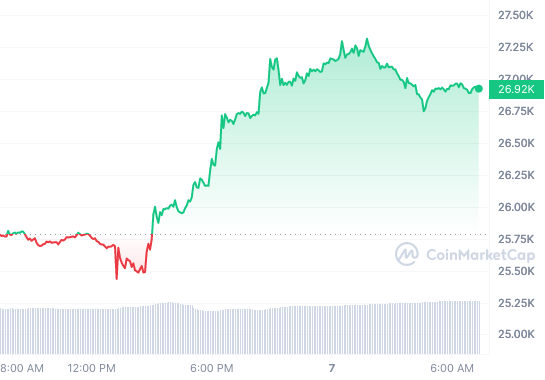 Hall said a lot of people are shockingly not informed about the full potential of Bitcoin. Including crypto experts. He, therefore, questioned the utility and what the future holds for a lot of altcoins and the projects that brought them.
According to Hall, Bitcoin is much more than money. He said it is revolutionary, and a lifestyle that brings people and communities together. To clarify, Hall said Bitcoin is a reflection of how we approach the world. Bitcoin, according to the analyst, has taught him how to be a bit more skeptical while not taking things at face value. This is because interacting with the coin has rewired the way he views things.
More than that, Bitcoin has delivered so much hope and given meaning to existence that probably wasn't there initially. These are realities that Bitcoin investors share in common and what non-investors are missing out on. Although the dip is over, it is yet another opportunity to buy Bitcoin for those who haven't done so.
Interested investors should visit eToro to do so.
9. Stacks (STX)
Stacks is one of the top gainers today as it is currently up by 5.55% and selling at $0.619. Its current market capitalization is $856 million. 
It was developed as the fuel to drive the Clarity smart contracts. STX holders have access to lock their Stacks so they can participate in the platform's consensus. That puts them in a position to earn rewards from the blockchain. The process of doing this is called Stacking. Participating in Stacking requires STX holders to run full nodes and then lock their held STX tokens.
The Stacks projects set out to unlock the complete potential of Bitcoin's blockchain. It does this by bringing decentralized applications and smart contracts to the Bitcoin blockchain. The project was initially called Blochstackbut it was renamed in 2020. It was designed as an L1 solution that utilizes Bitcoin as its base layer.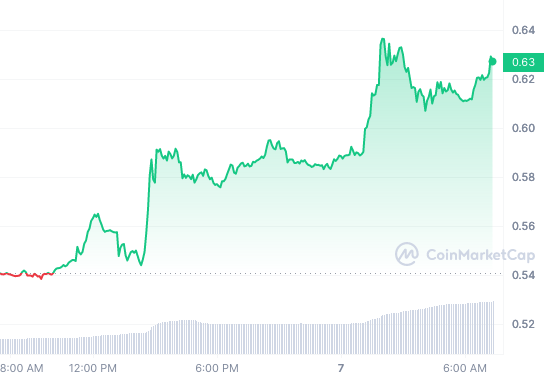 The platform's native cryptocurrency is STX and is used to process transactions and register new assets. The reason behind its creation is that big tech companies like Facebook and Google have too much on the internet. As such, the Internet is not as decentralized as it is thought to be.
Since Stacks is an L1 platform anchored on Bitcoin, its smart contracts on Bitcoin don't change Bitcoin's features. Including its stability and security. Stacks' decentralized applications are modular and open-sourced such that any developer can build on any existing app and be able to generate things that might not have been possible.
Furthermore, since Bitcoin is Stacks' base layer, everything in Stack's ecosystem is supported by the safest blockchain available.
Because Stacks is one of the highest gainers today, it is show strong potential for future returns. Importantly, it shows features of the next cryptocurrency to explode.
10. Terra Classic (LUNC)
Terra Classic is currently trading up by 6.03% and selling at $0.0000937. It has become the next cryptocurrency to explode because of the innovativeness of its development team. 
The core development team is planning to work on repegging the asset back to the US Dollar through TerraClassicUSD (USTC). This will come right after the Terra Classic community approves the parity upgrade to v2.1.0.
The upgrade is scheduled to be completed by the 14th of June. After that, the Joint L1 Task Force (L1TF) will spend a portion of its budget on testing a USTC environment for the team working to repeg the USTC with the US Dollar.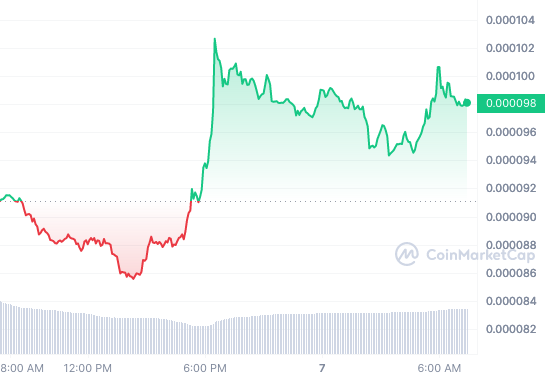 The community approved the USTC testing environment on the 7th of June. the L1TF proposed that it will use its Q2 budget for the testing environment. Some crypto exchanges have, however, expressed concerns over infrastructural support for the project. There are also efforts within the L1TF team to make a list of centralized exchanges and collect their concerns. With that, the team will be able to address the listed concerns. 
According to what is in the proposal, the team will spot controls that might have prevented a death spiral. Terra Classic rose by a cumulative of 35% in 7 days as users closed their various positions.
Terra Classic is the next cryptocurrency to explode with the innovations its team is working on. 
Read More
Wall Street Memes – Next Big Crypto
Early Access Presale Live Now
Established Community of Stocks & Crypto Traders
Featured on BeInCrypto, Bitcoinist, Yahoo Finance
Rated Best Crypto to Buy Now In Meme Coin Sector
Team Behind OpenSea NFT Collection – Wall St Bulls
Tweets Replied to by Elon Musk