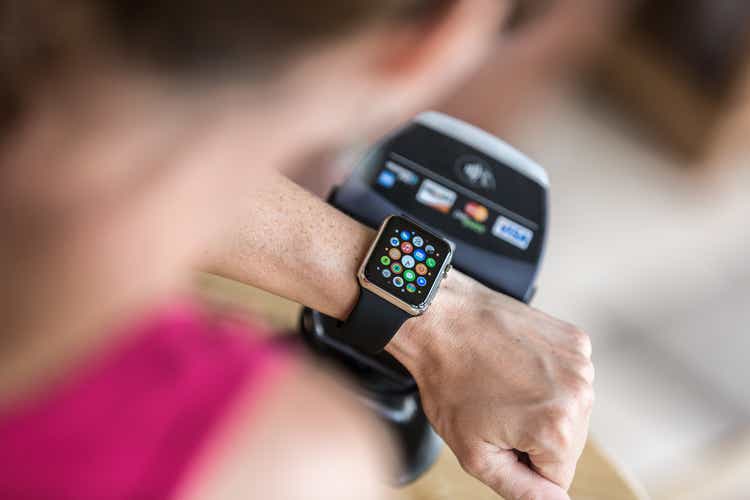 Some customers who signed up for an Apple (NASDAQ:AAPL) Savings account, offered through its partnership with Goldman Sachs (NYSE:GS), have run into snags in withdrawing their money, according to a media report.
One customer tried to transfer $1,700 from his Apple account to JPMorgan Chase (JPM) on May 15. Each time he contacted Goldman's (GS) customer service department, he was told to wait a few days. The transfer finally went through on May 31, the Wall Steeet Journal reported.
In April, Apple rolled out the high-yield savings account, which is linked to the Apple credit card, touting its annual percentage yield of 4.15%. That attracted attention as the average yield for savings accounts is 0.25% annual percentage yield, according to Bankrate's May 31 survey of institutions.
That customer wasn't the only one experiencing issues in accessing funds, the article said. In some cases, the money appeared to have disappeared, not showing up in either the Apple Card account or in the account they were trying to transfer it to. Goldman (GS) customer service representatives sometimes offered different explanations of what to do, they said, according to the WSJ report.
"The customer response to the new Savings account for Apple Card users has been excellent and beyond our expectations," a Goldman Sachs (GS) spokesperson said in an e-mailed statement to Seeking Alpha. "While the vast majority of customers see no delays in transferring their funds, in a limited number of cases, a user may experience a delayed transfer due to processes in place designed to help protect their accounts."
The spokesperson declined to disclose how many accounts were opened or the volume of deposits. Neither would they disclose the percentage of customers experiencing delays in accessing funds.
On new accounts, like Apple's (AAPL), transferring a large proportion of an account balance can trigger an anti-money laundering alert or security review, some people in the AML industry told WSJ.
"While we would not comment on specific customer interactions, we take our obligation to protect our customers deposits very seriously and work to create a balance between a seamless customer experience and that protection," the Goldman Sachs spokesperson said.
Goldman (GS), which started its foray into consumer lending in 2015, later retrenched, refocusing on partnerships with companies like Apple and General Motors. In Q4, the bank's new Platform Solutions unit, which includes the bulk of its consumer-facing businesses, incurred $1.8B in expenses.
More on Goldman's consumer business: