The S&P 500 on Thursday closed above the threshold that marked its exit from the longest bear market since 1948.
Here are some key stats from Dow Jones Market Data:
The S&P 500
SPX,
+0.62%
had been in bear-market territory for 248 trading days; the longest bear market since the 484 trading days ending on May 15, 1948.
Excluding this most recent bear market, the average bear market lasts 142 trading days.
It took 164 trading days from the bear-market low to exit; the longest period from bear-market low to exiting a bear market since the 191 trading day period ending July 25, 1958.
Excluding this bear market, the average bear-market low to bear-market exit is 61 trading days.
The index fell 25.43% from its recent high to its bear-market low, on a closing basis.
The index is still 10.5% off from its record close of 4796.56, set on Jan. 3, 2022.
Under the criteria used by Dow Jones Market Data and many other market watchers, a 20% rise from a recent low signals the start of a bull market while a 20% fall signals the start of a bear market. That means the market is always in either a bull or bear market. Also, the market doesn't hop into and out of either a bull or bear each time it crosses the threshold again. It takes another 10% or 20% move in the opposite direction to change the status.
See: S&P 500 exits bear-market territory. Will Big Tech's rally finally spread to the broader stock market?
So what does history say about what happens next? A look by Dow Jones Market Data at median and average performance following past bear-market exits, based on data stretching back to 1929, is largely positive for periods from one month to a year (see table below).

But there's a lot of variability. Here's a closer look at what happened after each exit: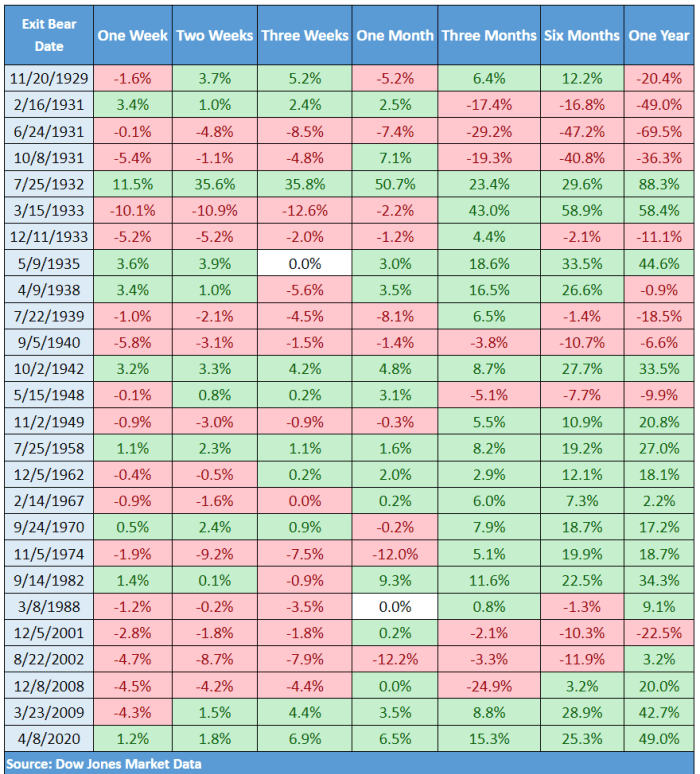 The table shows that bear exits usually — but not always — lead to durable bull markets.
In One Chart: Why stock-market bulls must beware of 'bogus bear-market bottoms'
As noted earlier by Sam Stovall, chief investment strategist at CFRA, of the 14 bear markets since WWII, only two — 2000-'02 and 2007-'09 –– produced exits that saw the S&P 500 quickly slump back into a bear market by declining more than 20%.
See: Big Tech's added bulk in S&P 500 in 2023 outweighs index's energy sector, DataTrek says
Stocks were boosted Thursday after a rise in first-time jobless claims appeared to reinforce expectations the Federal Reserve will leave rates unchanged when it meets next week.
The S&P 500 rose 26.41 points, or 0.6%, to close at 4,293.93, its highest close since Aug. 16.
The Nasdaq Composite
COMP,
+1.02%
rose 1% to finish at 13,238.52, while the Dow Jones Industrial Average
DJIA,
+0.50%
gained 168.59 points or 0.5%, to close at 33,833.61, its highest since May 1.
The Nasdaq exited a bear market on May 8, while the Dow exited its bear on Nov. 30.