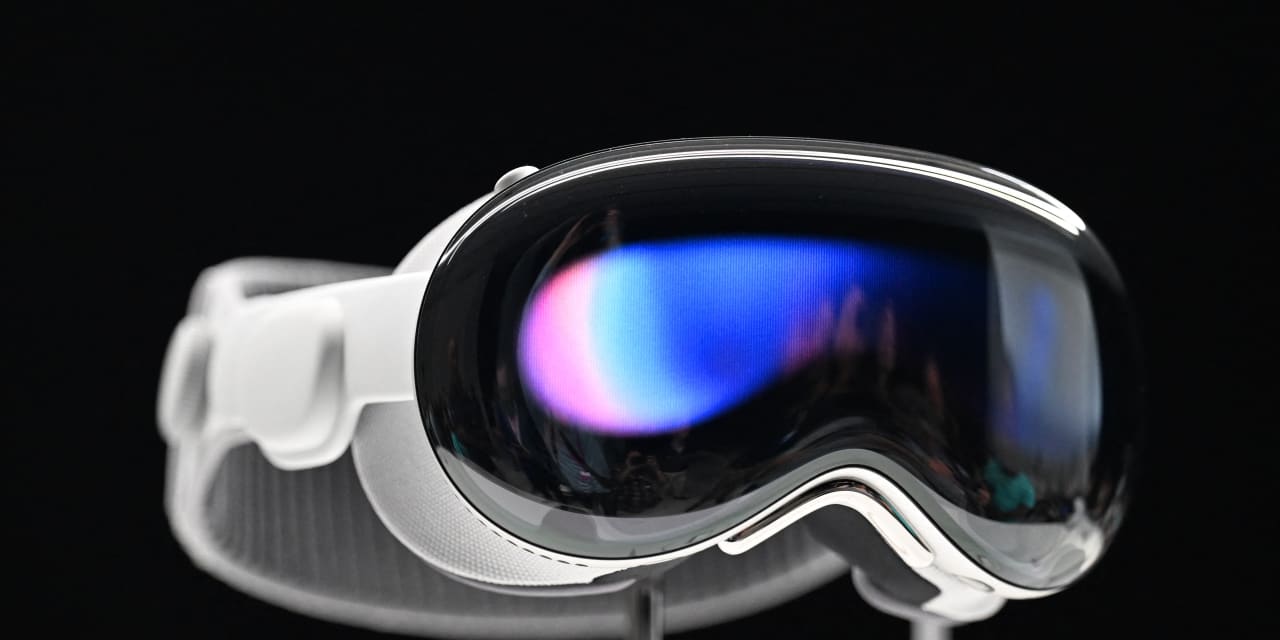 Apple Inc. splashed into the world of mixed reality this week by showing off its new Vision Pro headset, joining Meta Platforms Inc. and a number of other players in the quest to make tech-laden headsets cool.
As expected, Apple
AAPL,
-0.21%
brought its trademark design focus to its headset, and a number of the testers who have tried the device found it offers a better experience than rivals currently on the market. But is it better to the tune of $2,500? That's roughly the difference between the cost of a Vision Pro and the cost of a Meta Quest Pro, the Facebook parent company's
META,
-0.10%
high-end headset.
Don't miss: Will the new Apple headset provide a lifeline for Mark Zuckerberg's metaverse — or kill it?
Apple won't start selling the Vision Pro until early next year, but here's how its device shapes up to what's being sold by Meta, the market leader in headset shipments as of the latest quarter.
Price
It's impossible to talk about the Vision Pro without mentioning its $3,499 price tag, which was above what many expected the device would cost at launch.
By contrast, the Quest Pro starts at $999.99, after the price was slashed in response to a deafening lack of demand at its previous $1,499 price level. Meta recently teased its Quest 3, which will begin at $499.99. The older Quest 2 now costs $299.99.
See also: 10 reasons I won't be buying Apple's $3,500 Vision Pro VR headset 
Controls
Users of Apple's Vision Pro will be able to control the device with just their hands, voice and eyes, the company says. They'll be able to browse through apps by looking at them, scroll with the flick of a wrist, and make selections by tapping their fingers together, thanks to on-device sensors that track these motions.
The Meta Quest Pro has hand and eye tracking, too, though it also comes with controllers that Meta says feel like "natural extensions of your hands in VR."
Nilay Patel of The Verge, who tried out the Vision Pro on Monday, wrote that Apple has "gotten a lot farther with eye tracking and gesture control," showing off "pretty solid" eye tracking. He was also impressed with the hand tracking, noting that the ability to tap his fingers together to select things without outright pointing was "pretty cool."
Display
Apple's Vision Pro has better resolution, which testers praised in their initial assessments. The company says that its display "packs 23 million pixels across two displays — more than a 4K TV for each eye."
"Thanks to the headset's high-resolution front cameras, I had a clear view of my surroundings, along with the Apple representatives guiding my demo," Engadget's Devindra Hardawar wrote after experiencing the Vision Pro on Monday. "It wasn't a perfect representation of reality, but it was better than any VR or AR product I've seen."
"In the short time I tried it, it was totally workable for reading text in Safari," Patel said in his review of the Vision Pro.
Meanwhile, Meta's specs page for the Quest Pro talks of "1800 x 1920 pixels per eye." Patel's Verge teammate, Adi Robinson, noted in her review of the Quest Pro that the display had roughly the same specs as the Quest 2, a much cheaper device.
"In theory, it provides better contrast and a very slightly higher pixel density per eye, but comparing both devices head-to-head, I was hard-pressed to tell the difference," she wrote late last year. "It's still grainy enough that images look all right, but small text is fuzzy." 
Battery life
Apple says the Vision Pro "is designed for all-day use when plugged in, and up to two hours of use with its external, high-performance battery."
Meta talks similarly. "You can expect up to 2 hours based on the kind of content you're using on Meta Quest Pro," the company says on its website. Users can charge the headset with a cable while it's in use.
Weight
The Quest Pro weighs 722 grams, while Apple doesn't list a weight in the release for the Vision Pro.
"For the first 15 minutes of the demo, I couldn't believe how comfortable it was—far more cozy than the Meta Quest Pro or Quest 2," The Wall Street Journal's Joanna Stern wrote of the Vision Pro after trying it. "But it's still a lot of tech on your face. By the end, the top of my nose and forehead started to feel the weight. Apple says that discomfort was because the device wasn't perfectly fit to my face."
Don't miss: Apple wants its Vision Pro to mark a computing revolution. Early testers say it's still just a fancy headset.
Mixed reality
The Vision Pro has a digital crown, similar to the Apple Watch, which lets users toggle between immersive virtual reality and less immersive mixed reality, which still shows real-life surroundings. Meta offers Passthrough, "a feature that allows you to step outside your view in VR to see a real-time view of your surroundings," though the WSJ's reviewer preferred Apple's approach.
"The Vision Pro is different from any other headset I've tried because of how easy it is to toggle between seeing the real world and the digital world," Stern wrote in her review.
Opinion: Vision Pro could be Apple's biggest hit since iPhone, but that won't be known for years