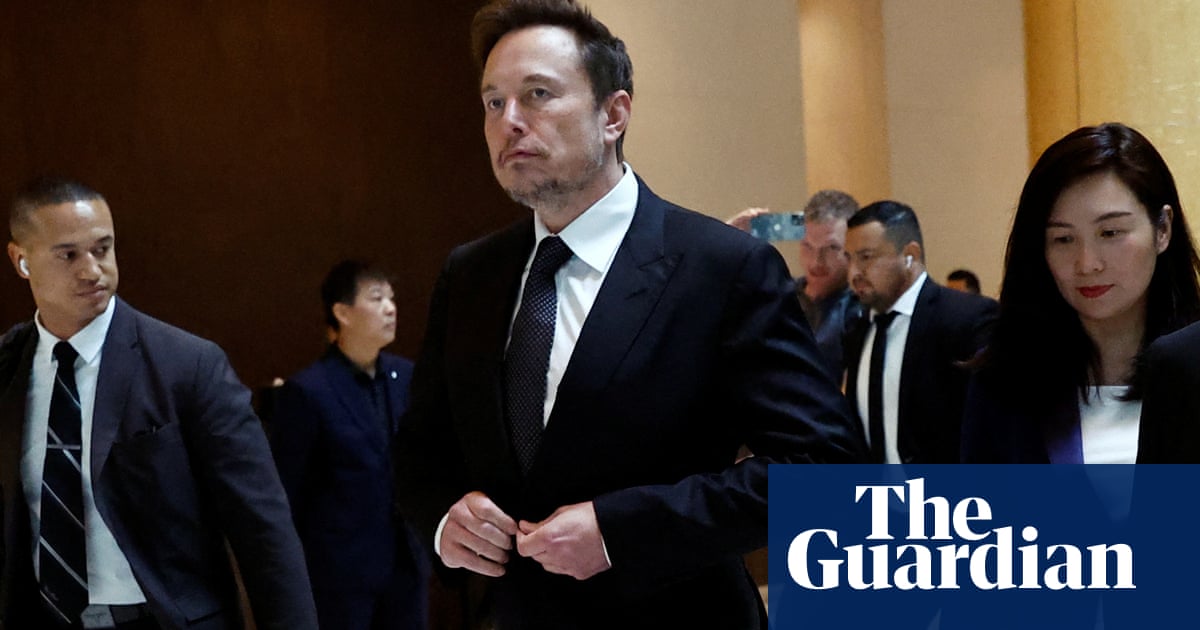 Followers of Elon Musk didn't know what to expect from his trip to China. Would he speak about Tesla, a company with a large market and manufacturing footprint there? Or SpaceX, with its symbiotic relationship with the American state? Or even Twitter, the social network he bought because "free speech is the bedrock of a functioning democracy"?
The one thing no one expected: silence.
Musk sent his last tweet late on Monday night. The uncharacteristic hiatus was broken only on Thursday morning when he returned to the US and wrote a post congratulating SpaceX for its achievements in human spaceflight.
Any other chief executive could have argued that their two days on the Chinese mainland were a non-stop parade of meetings, tours and dinners, leaving little time for posts on social media. But Musk, who has tweeted more or less every day since last June, is rarely lost for words.
Twitter, of course, is banned in China, although foreign visitors and net-savvy locals are frequently able to access it anyway using virtual private networks. But others were happy to speak on Musk's behalf. On Weibo, the Chinese short-form social network that has flourished in Twitter's absence, a state news outlet posted that his visit proved the folly of American policy to "decouple" from China, in comments translated by the Washington Post. "Even if the White House agrees with arguments for decoupling, the Musks [of the world] will not agree."
While in China, the Tesla CEO met the country's industry minister, Jin Zhuanglong, prompting a statement from the foreign ministry that Musk was hoping to expand the electric carmaker's business in the country, which is its second biggest market. The ministry claimed that Musk had described the two countries' economies as "conjoined twins".
The visit has proved influential among the wider business community. On Thursday morning, it was reported that the chief executive of luxury goods conglomerate LVMH, Bernard Arnault, was also drawing up plans to visit China for the first time since the Covid pandemic. Arnault and Musk have been jostling for position as the world's richest person, with Musk this week overtaking the Frenchman as Tesla stock climbed and LMVH shares dropped.
The importance of China to Tesla has long sat uneasily with Musk's investment in Twitter. Until he took over the social network, it had been known for taking an increasingly strong stance against efforts by the Chinese state to use the service for propaganda purposes abroad. News feeds such as that of the Xinhua agency were tagged as "state-owned media", while the personal accounts of Chinese diplomats and civil servants, using the site under special dispensation, were marked as being "government officials". Those labels were removed as part of Musk's controversial overhaul of the platform's verification process.
Another Twitter project, the company's moderation research consortium, shared details with researchers around the world of troll accounts run by state actors, including China. For the three years up to Musk's $44bn acquisition last October, Twitter published details about Chinese "state-linked information operations". The project is now inactive, and its twin heads at Twitter – safety and integrity lead Yoel Roth and legal, policy and trust lead Vjiaya Gadde – have become some of the highest-profile victims of Musk's substantial layoffs at the company.
Even before Musk took over Twitter, the conflicts of interest were clear. In April last year, the New York Times reporter Mike Forsythe noted that China had had no leverage over the platform since it banned the service in 2009, but that the country was important for Tesla both as a market and supplier. Amazon's CEO, Jeff Bezos, responding to Forsythe, asked whether Musk's takeover meant that "the Chinese government just gained a bit of leverage over the town square?"
In the year since, Musk hasn't directly responded to the criticism of the split incentives. But pressure over Twitter's general relationship with foreign governments has sparked a fiery response. After the journalist Matt Yglesias pointed out that Twitter chose to comply with Turkish government requests to take down content in the wake of the national election, in apparent contrast to Musk's claim to be a "free-speech absolutist", Musk replied, calling him an "insufferable numbskull". It was his last Twitter exchange before he arrived in China.